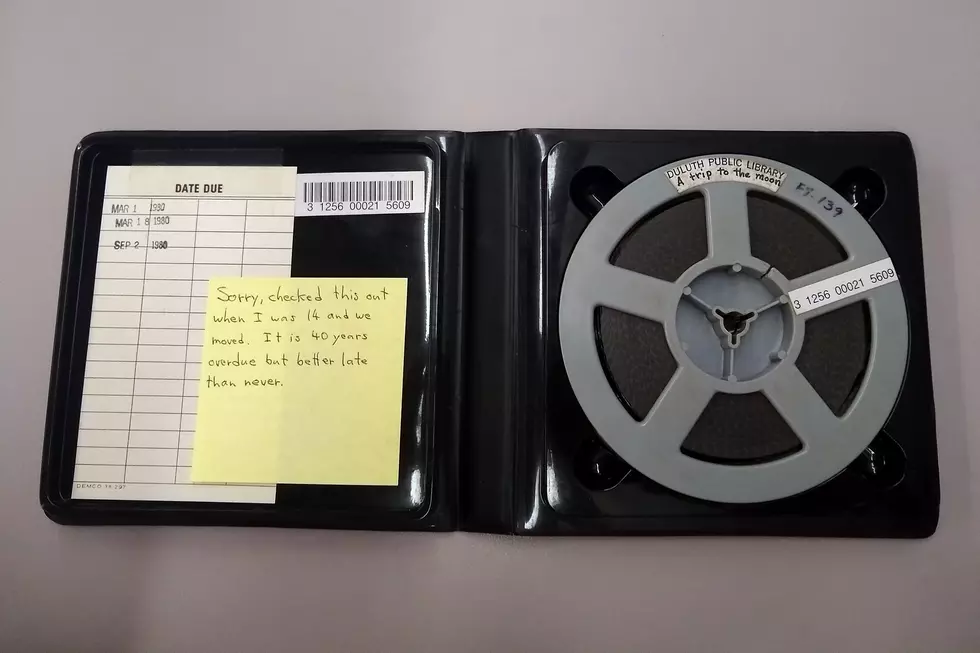 Man Returns 8mm Film to Library 40 Years Overdue
Duluth Public Library
Library Technician Dan Buckanaga thought someone had just returned a book on tape when he was emptying the returns bin at Duluth Public Library, but he was mistaken.
Laying in the returns bin was a standard 8mm movie on a reel, the format created in the 1930's. "I'd never seen one before," Dan said.
Attached to it was a sticky note, which read "Sorry, checked this out when I was 14 and we moved. It is 40 years overdue but better late than never."
The library hasn't carried 8mm film since the 1990's, according to the head of circulation, Byron Johnson.
Randall Brody was clearing out his shed, and found the film in a box in a box. He and his brother checked out the reel on September 2, 1980.
"At first, I didn't know what to do with it, thinking they don't even want it back. … It might have some value, maybe for a collector," Brody said.
"A little over a year ago, we got rid of overdue fines. He got off scot-free," Johnson said with a chuckle.
Brody says it was the second or third time he and his brother had checked out "A Trip to the Moon," but they moved to North Dakota. "All the chaos of that, it just never got returned," he said.
Johnson said they don't know if the film could be viewed at the library. The library's projection room is now a set of restrooms.
Enter your number to get our free mobile app
Iowa Restaurants Featured On Food Network