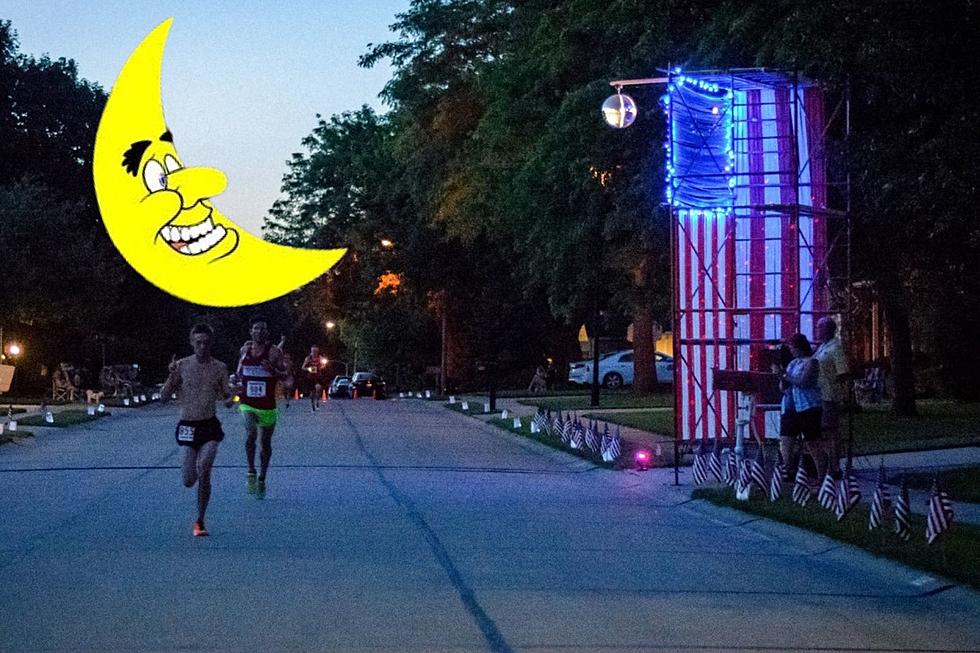 Run In The Dark At Eastern Iowa's Most Unique Race "The Moonlight Chase"
Moonlight Chase
It's one of the most unique road races in Iowa.  It's also one of the best cause you don't have to run under the heat of the sun.  The Moonlight Chase in Eldridge closes down the streets at night for you to run under the stars.
There are runs for adults, kids, and cash prizes thanks to The Fun Station for anyone that just shows off their glow.
The 38th Annual Moonlight Chase
The fun run is held on the streets of Eldridge on July 8 with the entire 4-mile course lined with thousands of luminaries. The Moonlight Chase is the pinnacle event of the Eldridge Summer Festival.  That day downtown is filled with food, drink, games, music, and fun for the entire family.
Thousands of people will come out to take part in The Moonlight Chase not only as a runner but also as a spectator. The supporters show their stuff with decorations and music and cheers along the entire course.
The Kids Can Run The Race Too
Get the kids off the tablet and get them running in the streets on July 8.  There are two races for the kids to run.
First is the Mel Foster Company 1/4 Mile Run.  This is for kids ages 6 and under.  All participants receive a finishers medallion with no clock displayed.
Next for the kids is the Scott County Animal Hospital 1 Mile Run.  This one is for kids ages 7-14. Again with this one, all participants will receive a finishers medallion.  But, this timed run also features place winner medallions to the top (4) four places in each (2) two-year age division.
Both kid's races will end with free refreshments at the finish line
Dress up and win cash prizes from The Fun Station
So you aren't fast.  No problem there.  First off it's a fun run.  And second, even the slowest run/job/walk can win cash!
The Fun Station once again wants to see your glow at the Moonlight Chase.  Get out the glow paint.  The neon clothes.  Use some batteries and get yourself really lit up.  Any fun costume you can think of!  Because The Fun Station will reward $100 cash for the best adult costume, $100 cash for the best duo/group costume, and Fun Station gift cards for the two best youth costumes.
It's a fun night in the streets of Eldridge on July 8.  Sign up here today and get ready to run and glow.
LOOK: Where people in Iowa are moving to most
Stacker
compiled a list of states where people from Iowa are moving to the most using data from the U.S. Census Bureau.
10 Trash Items You Can't Throw In An Iowa Bonfire