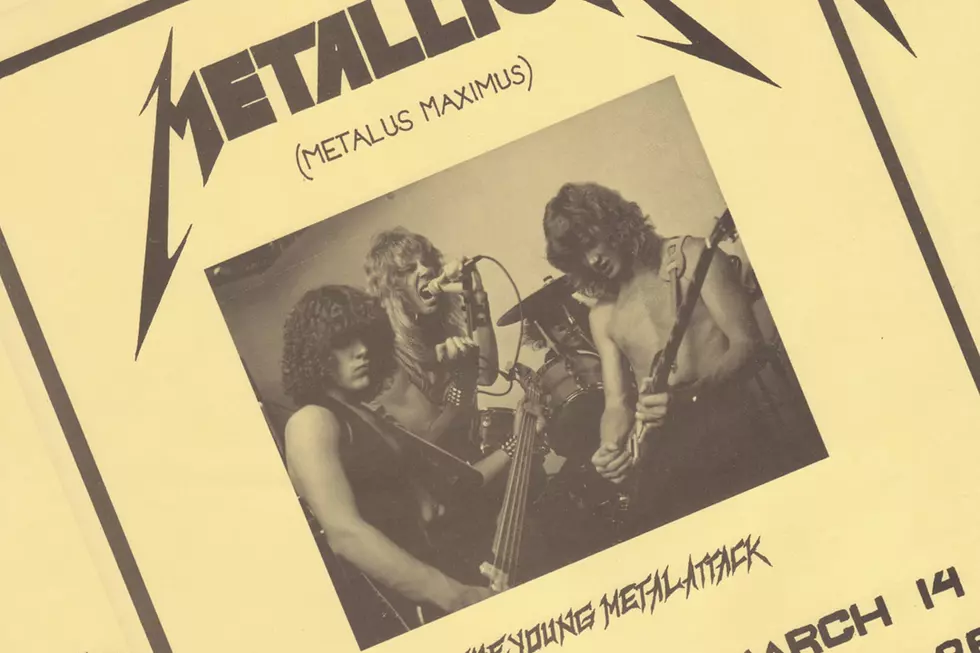 The Day Metallica Played Their First-Ever Concert
Metallica
They'd go on to bang a billion heads, but in the beginning, Metallica were just another ragtag bunch of kids with their amps cranked into overdrive — and on March 14, 1982, they took the stage together for the very first time.
The date's preserved for posterity at Metallica's official site, where a dot on their timeline notes that the band's lineup at the time — frontman James Hetfield, bassist Ron McGovney, guitarist Dave Mustaine and drummer Lars Ulrich — performed at the Radio City club in Anaheim.
Unsurprisingly, the young band was still very much in flux. As Metallica's timeline notes, Hetfield was still only singing during the group's gigs at the time, and they were still tinkering with different personnel: a little more than a month later, second guitarist Brad Parker joined up for a performance that "did not go over well." Still, the template for their sound was substantially in place — even if their set list was still largely covers, and their stage presence had yet to come into its own.
"There were a lot of people there, maybe 200, because we had all my school friends and all Lars' and Ron's and Dave's buddies," Hetfield told Guitar World years later. "I was really nervous and a little uncomfortable without a guitar, and then during the first song Dave broke a string. It seemed to take him eternity to change it and I was standing there really embarrassed."
"Ninety percent of the people there were friends of Dave Mustaine. And I mean that totally as a positive thing," Ulrich told Rolling Stone. "He had a very big social group. James and I were complete loners. We had no friends. We only had each other. [Mustaine] had a little bit of a name from playing in this band called Panic. The first song we played was 'Hit the Lights.' We played that and primarily New Wave of British Heavy Metal covers, like Diamond Head and Blitzkrieg and some other stuff."
Rough as they may have been, the band was coming together quickly. "Hit the Lights" would see release as part of the Metal Massacre compilation in June; the following month, the group tracked its No Life 'Til Leather demo. After a couple of fateful lineup changes brought bassist Cliff Burton and guitarist Kirk Hammett into the fold, they truly found their creative footing, and by the summer of 1983, they had their debut LP, Kill 'Em All, in stores.
The story wouldn't have a happy ending for Radio City. After years of serving as a suitably seedy incubator for a number of up-and-coming hard rock acts in the area, the club ran afoul of local law enforcement one too many times; citing excessive police reports and noise violations, the city council voted unanimously to revoke its operating permit in April 1986.
The Hilariously Bad First Concerts of Rock's Biggest Bands
There were long car rides, tiny stages and embarrassing situations on the way to stardom.
Remembering Metallica's Weird Lou Reed Experiment