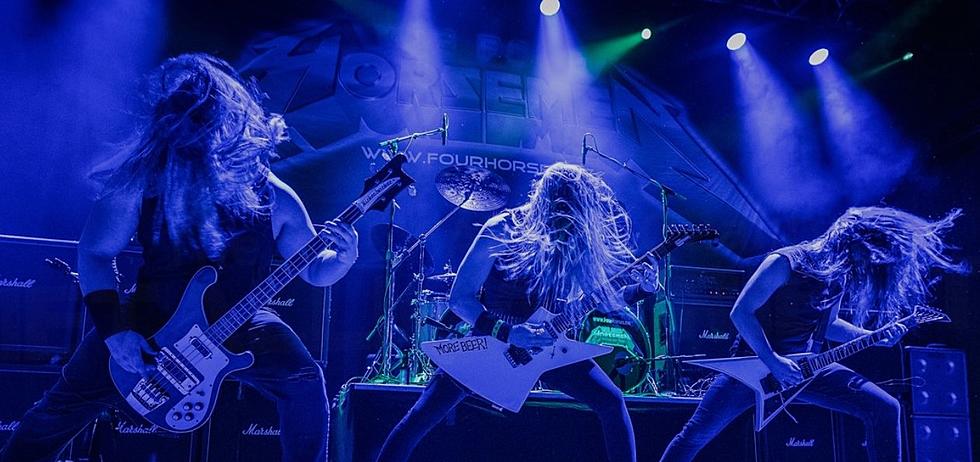 The Ultimate Tribute To Metallica Is Coming To The Quad Cities
The Four Horsemen
Metallica is on their 72 Seasons tour selling out stadiums across the globe...but we in the Quad Cities don't have an 80,000-seat stadium and many of us don't have a couple hundred bucks to drop on tickets.  So for $20, you can enjoy the biggest Metallica tribute band in America.
The Four Horsemen will hit the stage on Saturday, November 4 at The Rust Belt in East Moline.  And no stranger to the Quad Cities, Wonkzilla's Zombie Experience will open the show.
Tickets are on sale now right here and of course...you can win them below.
The Four Horsemen
Dedication to excellence is what separates The Four Horsemen from the ocean of 'tribute' bands. The only album-quality Metallica tribute band on the planet, they deliver the unforgettable, note-for-note perfect experience that is guaranteed to surpass even the wildest dreams of Metallica aficionados.
No gimmicks on the stage. Just sheer energy, chest-pounding, crowd-pleasing power. The very same intensity that drew millions to Metallica in the 80's. Guitarist/vocalist Sean Perry explains; "Fans deserve the highest quality reproduction of Metallica's records and shows. That's why we're here."
"I saw Metallica on the Black Album tour in 1991 and that experience changed me forever. The sound, the energy between the band and audience - from that moment on I knew what I was put on earth to do. Music is my life!" says Sean. Little did he know that his thrasher heroes would play an even bigger part in his artistic future when he was approached by a Metallica tribute band looking for a new, charismatic frontman in late 2006.
Every live performance they have done has received widespread acclaim; the band have taken the art of paying tribute to a new level of potency. Focusing on Metallica's first four, classic albums - Kill 'Em All, Ride The Lightning, Master of Puppets, and ...And Justice For All - with a smattering of anthems from the all-conquering Metallica/Black Album they deliver a show metal fans dream of.
It's old-school thrash Metallica at The Rust Belt.  Get your tickets today right here and sign up to win them below.
All Metallica Songs Ranked
LOOK: Here are the states where you are most likely to hit an animal
Hitting an animal while driving is a frightening experience, and this list ranks all 50 states in order of the likelihood of such incidents happening, in addition to providing tips on how to avoid them.