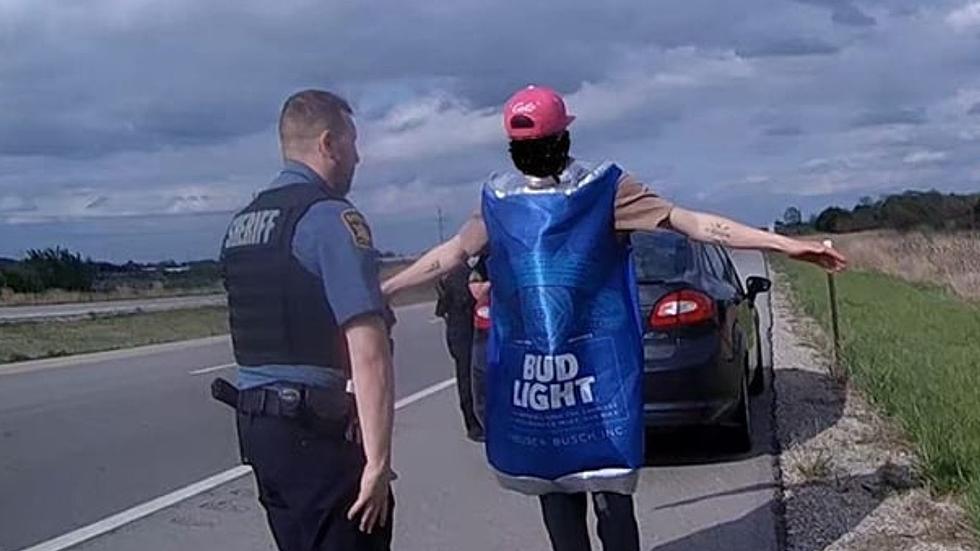 Man Who Most Certainly Doesn't Drink Arrested For DUI
Franklin County Sheriff's Office
This week on "people who most certainly are innocent and there's no reason to believe otherwise"...
A Sheriff's Office in Kansas has the internet cracking up at one of their newest Driving Under the Influence arrests that looks like it could be straight out of a scene of Reno 911!
"A career in law enforcement is exciting, and you get to experience something new every day," Franklin County Sheriff's Office said in their Facebook post. "Sometimes you see things you can't believe!"
The suspect, who was arrested and charged because he was driving under the influence.
I'm sure this traffic stop went about the same as usual with the officer walking to the window, and asking if the driver had anything to drink for the day. I'm sure the driver then said "No officer, why would you think that?"
Maybe because you're wearing a costume... of a Bud Light can.
"Deputies were surprised to see that the driver was wearing a beer can costume. Yes, you read that correctly," the Franklin County Sheriff's Office typed in their Facebook post. "The driver was eventually placed under arrest for driving under the influence of alcohol and transported to the Franklin County Jail. As always, suspects are innocent until proven guilty."
A few months back, we had another story of interesting arrest photos. One story we shared had a woman who was arrested for trespassing, and for some reason, she was covered in paint for her mugshot. 
Read more at KAKE
QUIZ: Can you identify 50 famous companies by their logos?
How well do you know the logos of 50 of the world's most famous companies? Keep scrolling to see if you can guess which icon belongs to which brand.