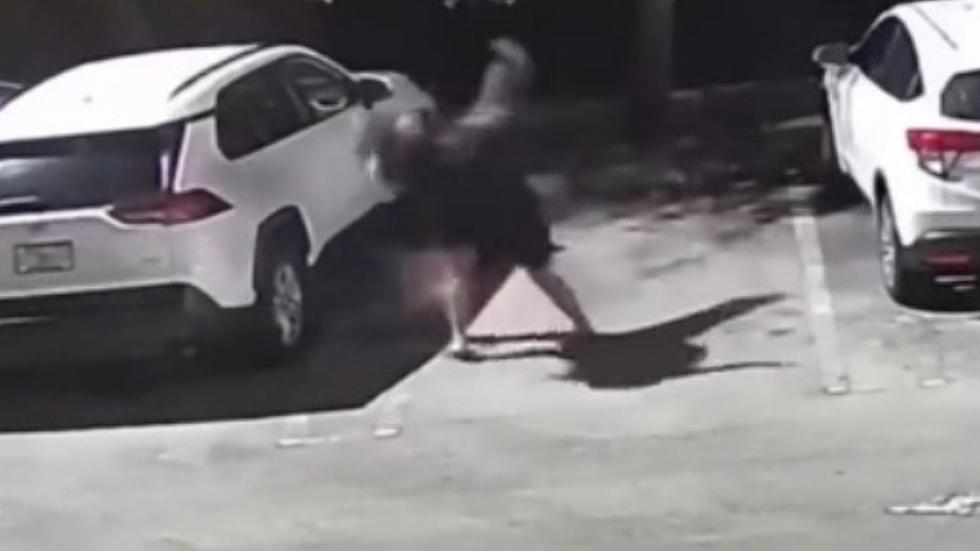 Former MMA Fighter Flips The Script On Man Wielding A Knife
WPLG via TikTok
A former professional mixed martial artist won a fight for his life outside of the ring, and the whole thing was caught on camera.
Javier Baez told WPLG that he is grateful to see another day thanks to his training after a man tried to stab him in Florida last Wednesday morning, and he was able to defend himself.
Baez said he was out late on Halloween night, getting back to his complex around 4am, when he saw 50-year-old Omar Marrero from Cutler Bay, holding a 14-inch long knife and yelling in the parking lot.
Marrero's arrest report stated right after seeing Baez in his vehicle, he began hitting his car window with the knife and opened the door to try and cut Baez.
Baez immediately left his vehicle to try and defuse the situation, Marrero continued to swing the knife at him.
Moments later, Marrero went back to his own car, grabbed a second large knife, and came back again to try once again to cut Baez.
Surveillance video shows when Baez had enough of avoiding being stabbed, and decided to take care of the problem the way he knows - disabling the threat.
"You train so many times that it becomes just a reflex," Baez told WPLG.
Baez quickly overpowered Marrero, lifted him, and then slammed him into the ground.
He was able to defend himself while disarming Marrero, and detaining him until police arrived at the scene.
"Once I started putting the choke in, he kind of just let it go because no one is worried about anything else but breathing when you're losing air," he said. "I was able to hold him down with my knee and call the cops, and he woke up, cops came, and it was good, easy peasy!"
Baez only suffered minor scratches from the scuffle from rolling around on the pavement.
"Once it came to that, it's all instincts. I couldn't do much but just react," Baez told Local 10 News. "I've been training my whole life — black belt jiu-jitsu, wrestled in college, I've got eight pro fights, MMA masters. I've got great training partners."
Baez said he doesn't know Marrero, but recognized him from being around the neighborhood.
Marrero was transported to the Cutler Bay Municipal District where he was interviewed and provided a statement to the police.
Marrero has been charged with burglary with assault or battery and aggravated battery.
He's being held without bond at the Turner Guilford Knight Correctional Center.
Read more at Local10
LOOK: 20 of the biggest insects in the world
Stacker
compiled a list of 20 of the biggest insects in the world using a variety of news, scientific, and other sources.
Gallery Credit: Andrea Vale