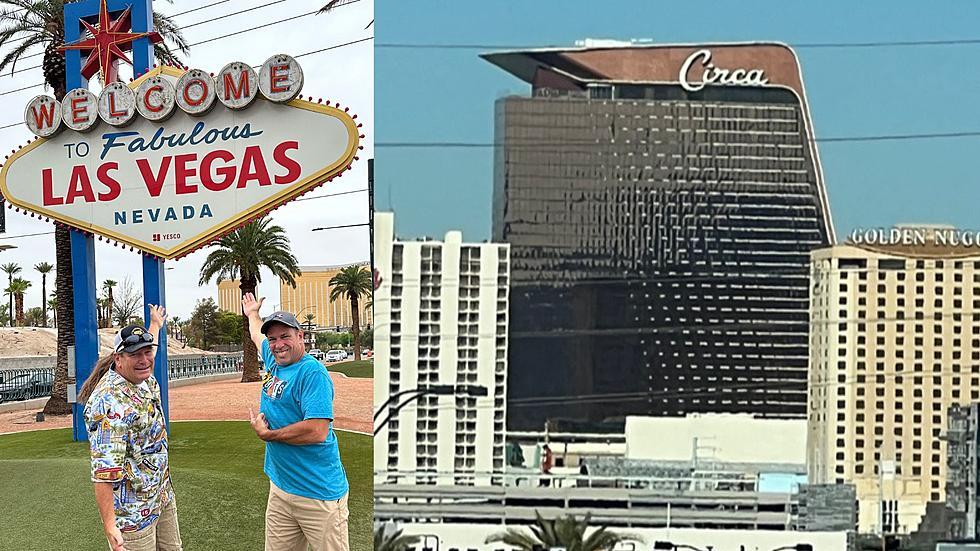 The Dorks Miraculously Survived A Weekend in Las Vegas
Townsquare Media
This weekend, Dwyer & Michaels went out to Las Vegas to spend some time at Circa Resort & Casino on Freemont Street, and they had a great time.
The Dorks spent the day hanging out by Stadium Swim, Circa's 3-story sportsbook screen that's conveniently located in view of the rooftop pool.
We laid down our bets for the MLB games for the day, and then hung out by the pool to see if we had any payouts coming our way.
Inside Circa, is the iconic "Vegas Vickie" neon sign that screamed "You're on Freemont" hangs between floors.
We placed our bets and had dinner at Victory Burger, which had this awesome burger and some delicious waffle fries.
Also, definitely have to recommend trying the Victory Style Fries, which are loaded up with all kinds of yummy.
Freemont Street is a sight to behold in itself. The lights, the signs, and the covered roof is a screen that spans 1,325 feet. There's so much to look at, along with street performers, but you can even zipline through the high-up ceiling.
Circa's also home to the MEGA BAR, Vegas' longest indoor bar. It spans 165 feet, has 46 double-stacked TVs, and 120 beer taps. The bartenders are a show in themselves.
Down Freemont Street, there's The D, which is owned by the same group as Circa Resort. Inside, they have a fully functioning vintage Horse Derby machine. Throw your quarters in, and bet on one of the mechanical horses to race around the place.
The Sigma Derby was made in the late 1980s, and still uses quarters for betting and for payouts.
Michaels and Mrs. Michaels won $100 from this one because they bet on the horse with 2-5 odds. 50 cents in and $100 out isn't a bad deal!
It was a great experience, and we can't wait to go back.