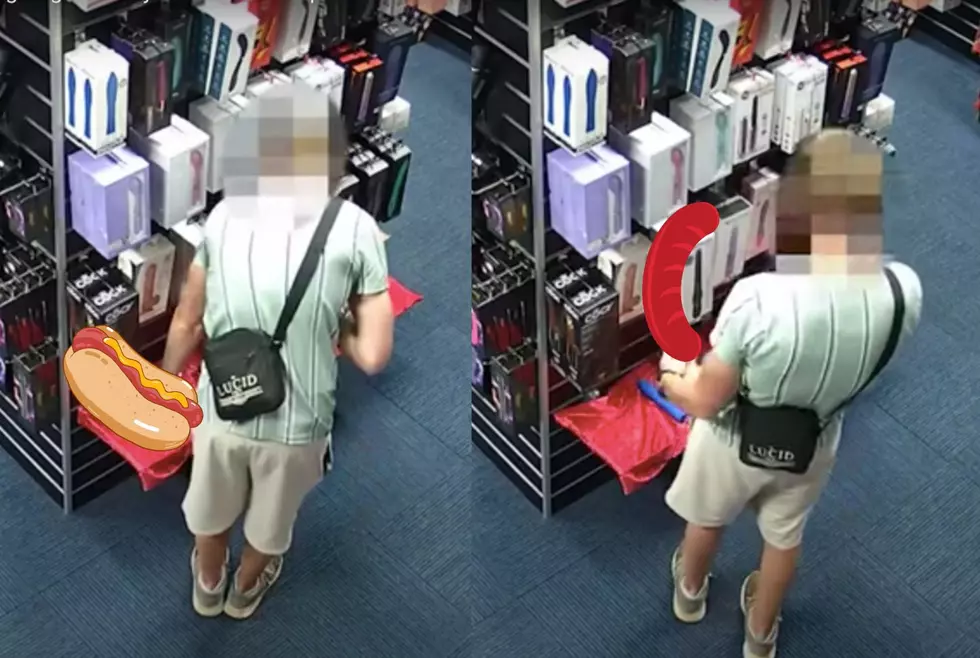 HIDE YOUR DILDOS! Police Are On The Lookout For The Phallic Bandit
News.com.au
WATCH OUT, EVERYONE! There is a bandit on the loose and he's coming for your dildos!
What The Heck Am I Reading?
Last weekend, an adult store in Queensland, Australia had one of its "largest testers" taken by a kinky thief.
The owner of Love Heart Adult Shop walked into the store Saturday, January 21st, and noticed one of the display dildos was missing. She decided to take a look at the camera footage.
"It didn't take long to track down where it went. It was the perfect angle. The camera got everything – it wasn't sneaky at all," said Ash, the owner.
What Was On The Camera?
The camera footage shows a man standing next to the display, grabbing the large sex toy, putting it in his pocket, and walking away. He continued to walk around the store looking at other items, then he left the store.
(We assume he was looking for something a bit bigger but didn't find anything that tickled his fancy.)
What Did The Owner Say?
Ash the store owner told the Toowoomba Chronicle the $200 price tag [$142 USD] could have turned the assailant off.
"It's a very big item to steal, I guess by the way he put it in his pocket … staff wouldn't be looking there," Ash said. "Earlier, he picked up the box, and he must have seen the price tag and didn't want to pay it, so he took the best next option – the tester. In between cleaning, there's probably about 10 people that had touched it, so hygienic-wise, stealing a tester wouldn't be my first choice."
Police were made aware of the theft and are looking for the man.
Read More Here: New York Post
Here Is Where We Recommend Hiding Your Dildos
You never know when the phallic bandit might strike your secret stash! We recommend hiding your dildos in places other than your "no-go zone," or as Michaels would say "nature's suitcase."
Here is a quick list of the best places to hide your dildos:
In your co-worker's desk (Then if someone finds it you won't be blamed)
In your coat pocket (A great hiding spot when you need it on the go)
In the Tupperware drawer (Specifically the spoon holder, because who the hell uses spoons)
In the corner of your dog's kennel under the unvacuumed hair pile (Remember to wash it before and after use)
In your husband's toolbox. (He won't touch a tool he doesn't know how to work)
The best place to hide your dildo... In plain sight. (No one ever sees things that are right in front of them)
Hope this list helps you! Good luck and keep your dildos safe! 
Women Name The Weirdest Place A Guy's Ever Taken Them On A Date
Dating is tough for guys, partly because they suck at PLANNING dates. And some are really bad at it...
Someone on Reddit asked women to name the weirdest place a guy's ever taken them on a date. Here is what they said...