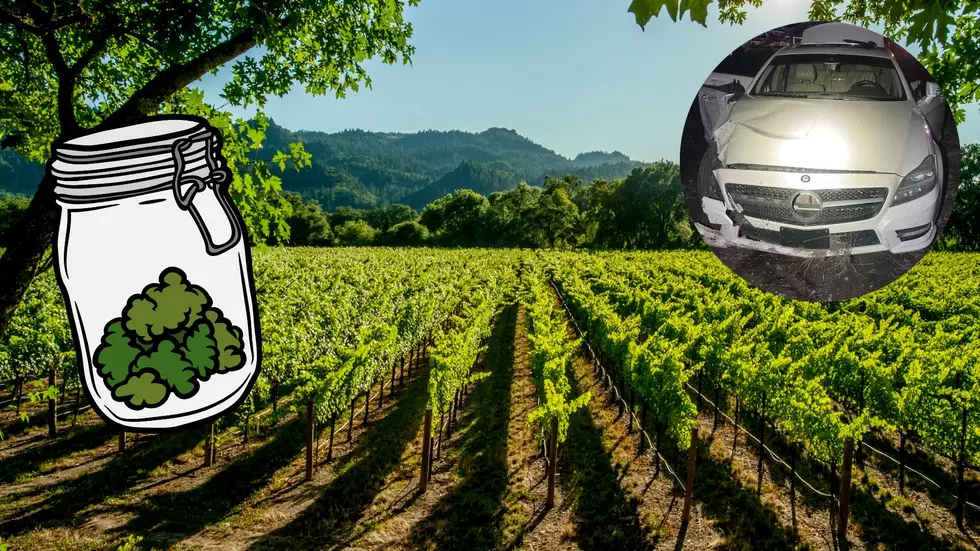 Most California Chase Ever Involves Solar Panels, Pot, and Wine Country
Canva/Petaluma Police Department
Three men from California's Bay Area were arrested Tuesday night after authorities responded to the attempted burglary at a cannabis dispensary near Petaluma, which was the second time a dispensary was targeted in the area within two days, according to police.
According to a news release from the Petaluma Police Department, the trio was arrested on charges of conspiracy, possessing burglary tools, resisting arrest and evading police officers following a high-speed chase.
So What Happened?
The Petaluma Police Department dispatched officers to Down Under Industries, a dispensary located on Ely Road North in Petaluma, around 2:50am after a burglary at the business was reported.
When officers arrived on scene at Down Under Industries, they saw four vehicles leaving the scene.
Three of the vehicles matched the description of the three vehicles used by suspects in the burglary that had taken place the night before, where Santa Rosa Police say they stole more than $40,000 in products and cash.
Petaluma Police Give Chase
Petaluma Police attempted to pull over one of the vehicles, which continued onto Highway 101. One of the vehicles, a white Mercedez-Benz, exited the roadway near Novato. Police continued on after the other vehicles, reaching speeds upwards of 100mph, which was when they pulled off from the chase due to the dangerous speeds.
Officers returned to the San Antonio exit where they spotted the white Mercedez-Benz. While trying to pull it over, the car fled away down Silveira Ranch Road, until the driver learned that the road ended.
The Chase Ends
The sedan drove to the end of the road, crashed through a cattle fence, chain link fence, and finally stopped when they collided with a solar panel, upon which the occupants ran from the scene.
To locate the suspects, police brought in surrounding agencies and a helicopter from California Highway Patrol to find them.
Police arrested:
29-year-old Joshua Hawkins-Butler
18-year-old David Hill III
31-year-old Shawtanique Blocker
Read more at The Press Democrat
LOOK: Baby names that are illegal around the world
Stacker
scoured hundreds of baby name databases and news releases to curate a list of baby names that are illegal somewhere in the world, along with explanations for why they're banned.