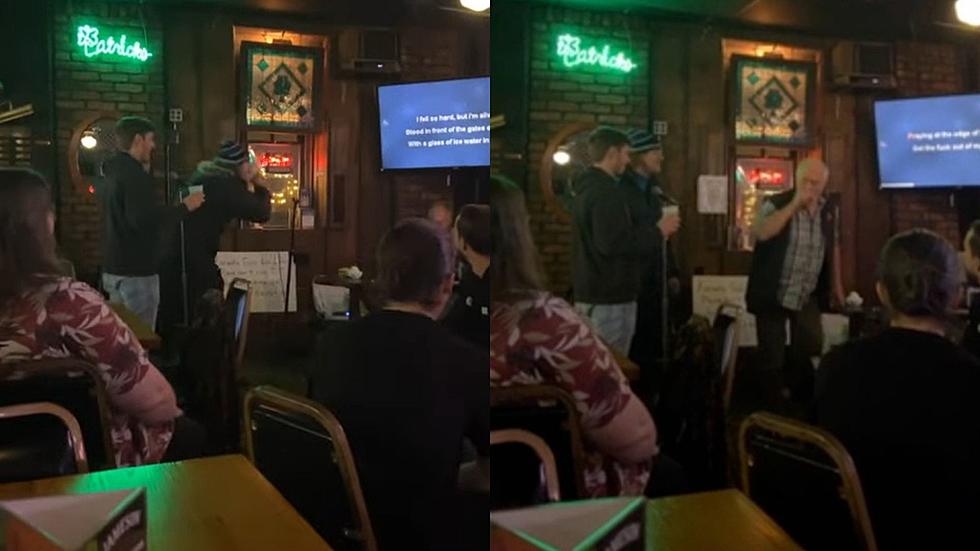 Karaoke Host Doesn't Like Metal, Yells At Whole Crowd In Viral Rant
ViralHog via YouTube
A karaoke host in the Louisville area has gone viral after a huge rant at not just some karaoke participants, but at the entire bar as well.
In the video, two guys are standing in front of a crowded bar next to a karaoke screen, and one of the duo starts to scream the song when the karaoke MC suddenly cuts him off.
"YEP! That's it! Goodbye, everybody!" The man yelled as he stood up from his table.
"Nobody's gonna holler in my microphone. I'm sorry!" he said as he wiggled his way out from behind his host table.
Then, the crown jewel of the clip comes in.
The host put his hand up to his mouth as if it was a microphone, and imitated the man singing.
"We were on a night out in Louisville, KY, and stopped at a karaoke bar," the person recording told ViralHog. "My friend and I attempted to karaoke Goodbye Graceful by Falling In Reverse, then the karaoke host freaked out on us for playing the intro to a metal song."
The argument can be made that he has the right to protect his equipment, but the argument also can be made that he should probably know the songs he makes available on his list.
As the bar starts to laugh about the guy's impersonation of the singers, he says "You wanna see funny? Look at my tip jar! $13! FOR FIVE HOURS!"
"Friend screaming at the beginning of the video took three gravity bongs before going on stage and was in complete shock by the old man's reaction. It was also my first attempt at karaoke ever, and I don't think it could have gone worse," the author wrote on his caption.
Check out the video: