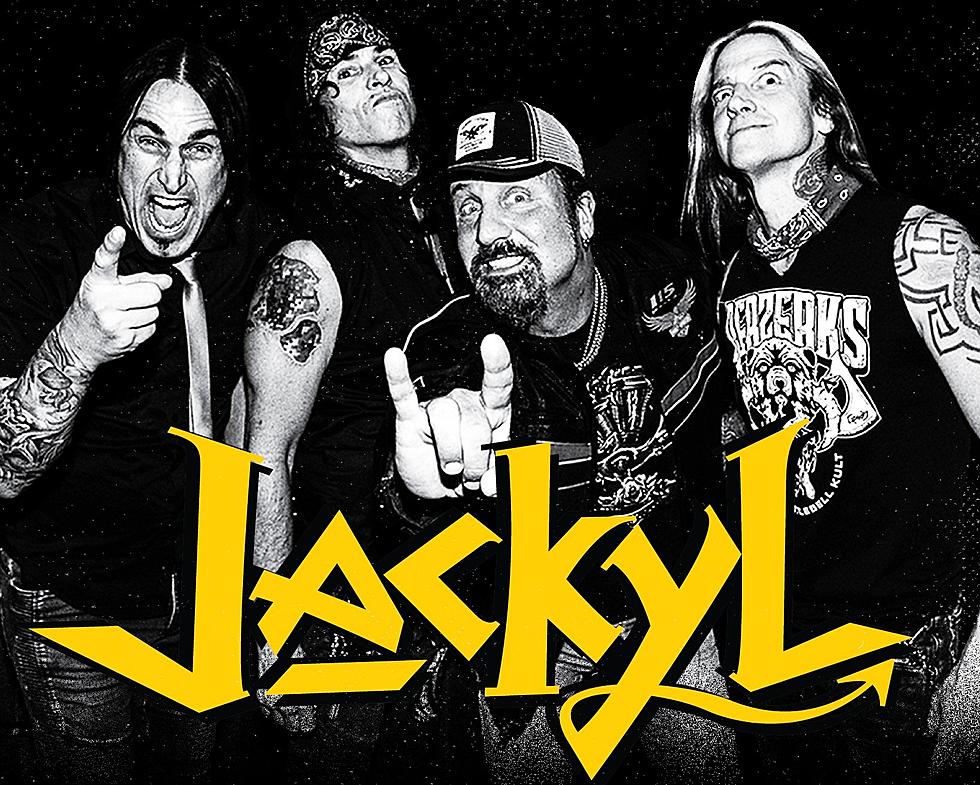 Jackyl is returning to the Quad Cities!
Ariel Ufret
Jackyl is coming to the Rust Belt in East Moline October 19th with special guests Electric Shock.  Tickets are on sale now.  Get yours right here!
25 years of Jackyl.  From the moment their first album was released in 1992, the band has defied gravity.  They were introduced at a time that rock music was taking a drastic turn toward the "shoe gazing" and the "anti-star" alternative music and/or the grunge of Seattle. No one would have bet on this band to make any kind of a showing. The possibility that this band would hang a platinum record on the wall was slim-to-none, had it not been for one key factor……the band had beat the road relentlessly and there was that ALMIGHTY fan base. A solid base of straight up blue-collar rockers that looked at each Jackyl show as more like a family reunion. The band never looked back and has never shied away from its signature "Lumberjack" chainsaw. Whereas other bands may have chosen to distance themselves from such, Jackyl embraced it, the same as Angus wearing his school boy outfit, Kiss wearing their make-up or Iron Maiden having Eddie come out onto the stage. Give the people what they want and more. And there was more, "I Stand Alone", "Down On Me", "When Will It Rain", "Dirty Little Mind" … All charting top-10 Rock Radio Singles. Then there were the stunts.  Pulling up to a K-MART on top of a Father's Day sidewalk sale because Walmart refused to carry their first album had a song called, "She Loves My Cock". Then there was the Longhorn Steak House incident, where Jesse surprised some heavy weight radio station program directors with his chainsaw, and it turned into a class action lawsuit costing the band over one million dollars. Now after 25 years that first album has sold approximately 2 million copies. 

The second album, "Push Comes to Shove", and how the band managed to secure a prime slot playing Woodstock '94 for an explosive set that had the late night talk shows talking about and showing clips from Jackyl's performance, complete with the chainsaw run through a talk-box on the single "Headed For Destruction". After "Push Comes to Shove" was certified Gold, Jackyl and Aerosmith both followed the Legend John Kalodner: John Kalodner to Sony.

Then Rock and Roll Hall of Famer Brian Johnson joined the band on the third album "Cut the Crap" to record and sing a duo on the track "Locked and Loaded", the only time anyone in AC/DC has ever recorded outside the band.

The band is in The Guinness Book of World Records not just once, but TWICE! Their first record was for 100 shows in 50 days.  The second record they set was for 21 shows in a 24 hour period. The band also teamed up with another Rock and Roll Hall of Fame legend; DMC, from Run DMC on the track "Just Like A Negro", a song that states that music makes all colors run together. In July of 2010, the band being turned into cartoon characters for an episode of Squidbillies on Cartoon Network's, Adult Swim. The band was also part of the top-5 cable-rated Full Throttle Saloon reality TV show; with Jesse being shot out of a cannon and also a complete body burn down a zip line to the center of the stage exploding on impact.
In celebration of their 25th anniversary, Jackyl has released: Jackyl 25. The 18-track set (which can be preordered via the band's official site, Jackyl.com) features such Jackyl radio hits as "Down On Me", "The Lumberjack", "Push Comes To Shove" and "Favorite Sin", as well as two previously unreleased tracks — a live rendition of "Redneck Punk" and a cover of Black Oak Arkansas' "Hot And Nasty". 
"At the time we first hit the scene, we were told by quite a few interviewers and fans that we sounded like a cross between Black Oak Arkansas and AC/DC". "While we were very familiar with AC/DC, we were not with Black Oak Arkansas. We went back and listened, and were blown away — so much so, that we recorded a cover of one of their most kick-ass tunes, 'Hot And Nasty', which is now finally getting its release on this comp."

The members of the band that built the above story: Jeff Worley, Chris Worley, Jimmy Stiff, Tom Bettini, Roman Glick and Jesse James Dupree. You want to discuss how they defied gravity? Well the answer is simple. Jackyl is a celebration of the fundamentals of Rock and Roll: two guitars, bass, drums and a chainsaw. Every single night, regardless of venue, no matter how big or how small, it is attacked as if the show was at Madison Square Gardens. The people that "Get It" come out not to see the show but to be part of the show. They want it Loud, Proud, Hard and Honest and that's exactly what they get with Jackyl. The people that don't "Get It", well, we generally find are the same people that have a hard time admitting that they masturbate.  Come out and see us on the 25th Anniversary tour. 

ROCK ME ROLL ME JACKYL ME OFF……We Ain't Done Yet.
Perfect Quad Cities Tattoos
Midwest's Best Airbnb Is A Short Drive From The Quad Cities
If you're going on vacation and want to stay somewhere, you mine as well stay at the best. This is a look inside
Frank Lloyd Wright's Schwartz House
in Wisconsin which was named this year's
Midwest's Best Airbnb
. Get you and 5 friends together or the family, and stay at this beautiful, historic home which is only a few hours away from the Quad Cities.
Quad Cities' Top 5 Favorite Places To Get Ice Cream
We asked where is your favorite place to get ice cream in the Quad Cities. Hundreds of you answered and we tallied up the answers. These are the top 5 favorite places the Quad Cities loves to get ice cream.