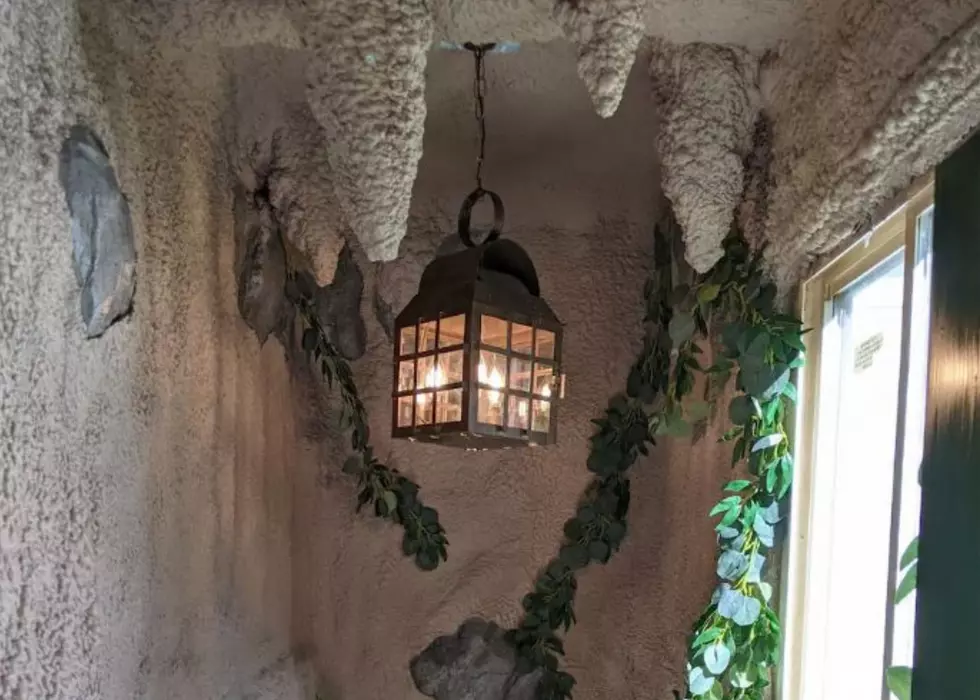 My Precious! Gollum's Cave Is Close To The QC & Less Than $100/Night
Airbnb/Rachel
Calling all LOTR fans: Gollum's Cave is actually pretty close to the QC and you can stay there for less than $100 per night.
Airbnb's often have a unique theme and this one in Bartonville, Illinois is no exception. It's about an hour and a half outside of the Quad Cities. Styled after Gollum's cave from "Lord Of The Rings", it's part of an entire LOTR-themed duplex- the top level is called the Hobbit.
The Cave isn't an expensive stay either, only $77/night. When you walk downstairs into the cave, it sets the vibe with realistic-looking stalactites hanging from the ceiling and a lantern. It has a full kitchen for you to make your Second Breakfast, a queen-size bed (there's a sectional that can become a bed too), and amenities that Gollum likely didn't have in his cave, like wifi and an indoor gas fireplace. The Cave is in the basement of the duplex so FYI you would probably hear squeaky floors if anyone is staying in the Hobbit above you.
Even with all of the modern features like a tiled shower and smart TV, it still retains the cave feel. You'll see that in the pics below.
Outside, you're welcome to use the firepit, grill, and relax on their back patio. Ready to book it? You can get more details on it and see availability here. You can get more info on renting the Hobbit level of the duplex here.
Scroll down to see pics of the Gollum's Cave Airbnb, my precious.
My Precious! Gollum's Cave Is Close To The QC & Less Than $100/Night
An Airbnb in Illinois is designed to be like Gollum's cave from "Lord Of The Rings". Take a scroll to learn more about it and see pics!
The Best Places To Watch Iowa Football Games
We have gathered 15 places around the Quad Cities where people LOVE to watch Iowa Football games. Many bars with owners that are Hawkeye fans have specials on game days. Cheaper beer, special dishes, and even free shots when Iowa scores a touchdown.
We asked listeners where their favorite place to watch Iowa football was, and here is what they suggested.
10 Household Tasks To Get Your Home Ready For The Fall Season
When September hits I'd like to think the world divides into two. One half is clinging on to summer with everything they have, while the other half is already starting to put pumpkins around their house and watching scary movies by the fireplace.
Although the official first day of fall is September 22, many people like to start fall traditions early as it excites them and brings them that warm fuzzy feeling. As the days become shorter and the weather changes there are tasks to be done when being a homeowner. Not only does one's mindset change as the seasons do, but the chores around the house change as well.
Now that the seasons are changing it is time to start preparing your home for the weather to come. We have gathered some important fall home maintenance tasks to get you and your home ready for the chilly season.
Here are 10 ways to get your home ready for fall.