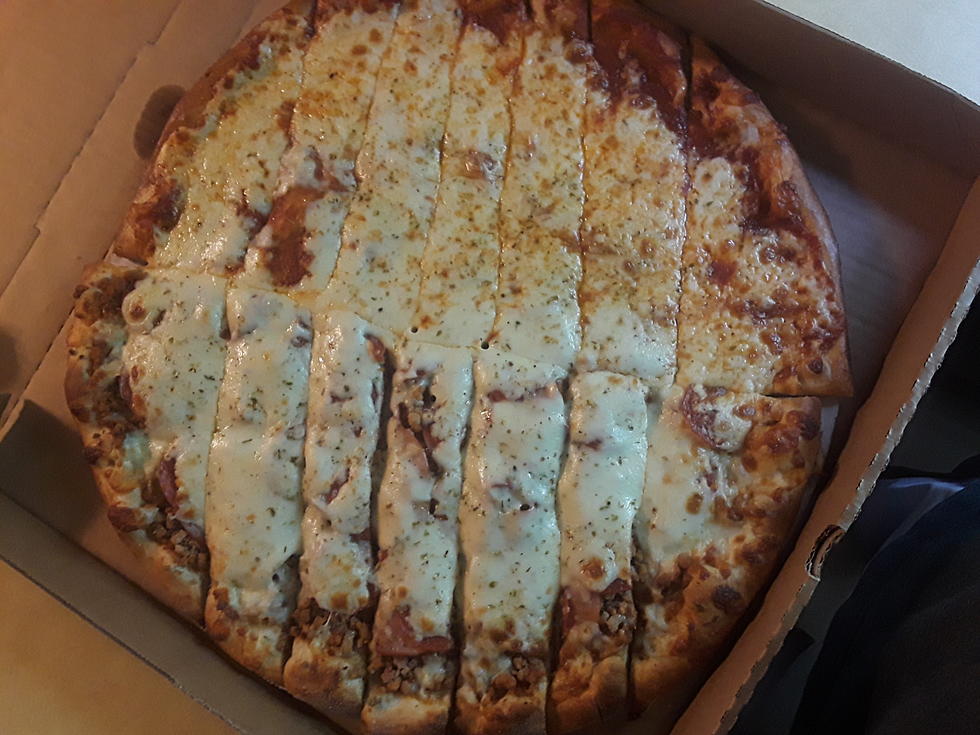 Chicago Pizzeria Shows You How To Make Your Own Quad Cities Style Pizza
Townsquare Media
Pizza is our legacy,  you know that, right?  No matter what music comes out of the Quad Cities, no matter what sporting event is held here, we will be known by our pizza style.
And I'm perfectly ok with that!  I happen to love Quad Cities Style Pizza. The thin long slices, the crumbly sausage, the sweet crust.  Franks, Harris, Uncle Bill's...whoever!  I'll take it all!
Turns out there's a pizza place in Chicago that apparently has a QC connection.  They say they were born in the Quad Cities...but raised in Chicago and have now spread the gospel of the QC Style pizza to Chi-Town.
They've got regular Quad Cities Style Pizza and Taco Pizza..."a Quad Cities original".
RootsPizza.com describes QC pizza: "Quad Cities-style" pizza is its own Midwestern breed, not comparable to Chicago's own deep dish, New York style or Neapolitan. With a sturdy, chewy malt crust, spicy tomato sauce and a thick layer of cheese, these pizzas pride themselves on being devoid of pretension."
"Nothing fancy. Just some damn good pizza"
Now they are offering to pass along the tips and tricks to make your own QC pizza with
Roots Handmade Pizza "Pizza School"
Master the art of creating your very own pizza by using the basic fundamentals taught here at Roots Handmade Pizza! Our dough tossing pros will demonstrate the perfect technique for you to follow along with. You then will be guided through saucing, topping, and cheesing your pizza as you wish. Once you've created the perfect pie, we bake your masterpiece in our oven. All that is left to do, is for you to enjoy!
When you reserve a table you'll get a 12" pizza kit and non-alcoholic beverages.  You can purchase additional pizza kits for $20 each
Roots Pizza - West Town at 1924 West Chicago Avenue is hosting the upcoming events:
Thursday, January 20th, 7-9 PM
Tuesday, February 15th, 7-9 PM (Valentine's Day class featuring heart-shaped pizzas!)
Wednesday, February 16th, 7-9 PM (Galentine's Day class featuring heart-shaped pizzas!)
Craft Breweries in the Quad Cities Area
We're very lucky to live in an area with such an amazing, thriving "craft beer scene". You'll be able to find everything you could want.
Not sure what you want? That's ok. The bartenders at these establishments are very well versed and can guide you through a wonderland of Ales and Lagers.
From "coffee infused" to "riff infused".
From "pale ales" to "peanut butter porters".
Fruity, Sour, Hoppy, Malty, Crisp, Crushable beers in all shapes and sizes.
Crowlers, Growlers, Cans & Kegs...the Quad Cities Craft Beer scene has it all.
And of course...a great beer isn't complete unless it's paired with some amazing food. Whether it's made in the breweries kitchen or in the food truck in the parking lot...brewers know that people love food with their beer.
Take a look at the 19 Quad Cities Area craft breweries!
What The Quad Cities Did For Fun in the 90's
Many times over the years, I'll be talking with friends about years gone by and I'll say "take me back".
Every generation goes through this, I assume. Looking back at a more simple time where responsibilities haven't set in and life seems fun. Opportunities are endless.
Let's go back to the 1990's to Wacky Waters, 50 Cent Beer night and revisit Mallards Mania!