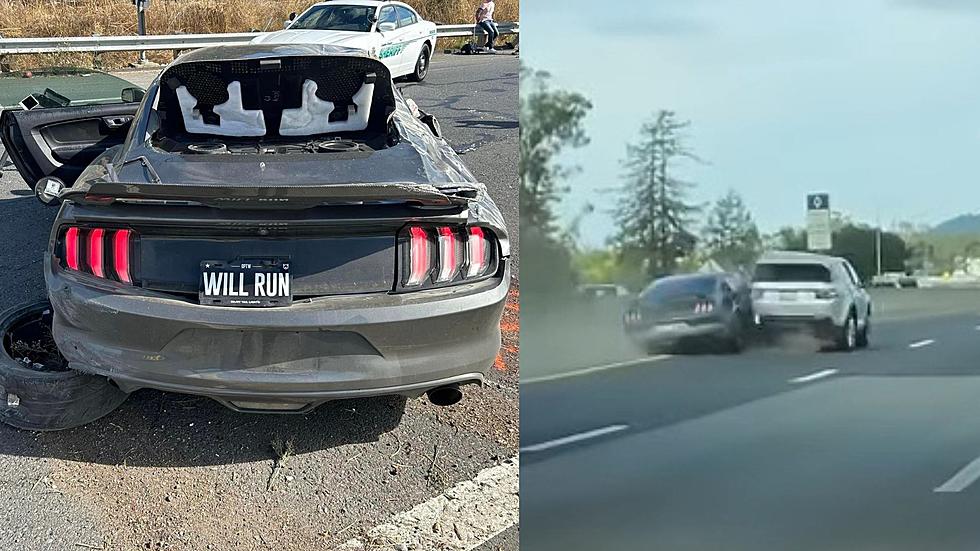 California Teen Runs From Cops Crashes into SUV
CHP Santa Rosa / ppv_tahoe via Instagram
An 18-year-old Santa Rosa man fled a California Highway Patrol stop and ended up smashing into the back of an SUV carrying a family on Saturday afternoon, according to the California Highway Patrol.
Officials say 18-year-old Marcus Burton was driving a Ford Mustang with its license plates covered with a sign stating "Will Run" when he collided with the SUV around 1:30pm. Before the collision at Mendocino Avenue, the Mustang was reported moving at over 100mph.
Three victims were transported to a hospital.
Burton's Mustang was known to multiple agencies in incidents that had occurred recently, but "Nothing as extreme as yesterday," CHP's spokesman David Derutte added.
Booked into Sonoma County jail on charges for evading police, evading police causing injury, and child endangerment, all of which are felony charges.
A video of the incident was uploaded to Instagram, showing the moment that the Mustang collided with the SUV.
The video shows the driver being arrested, but also another 17-year-old passenger who climbed out of the wrecked vehicle.
Derutte said the other passenger was a 17-year-old male who was released to his parents.
Read more at KTVU
LOOK: Controversial songs from the year you were born
Stacker
celebrates history's most boundary-pushing—and thereby controversial—songs from 1930 through today.
Gallery Credit: Stacker