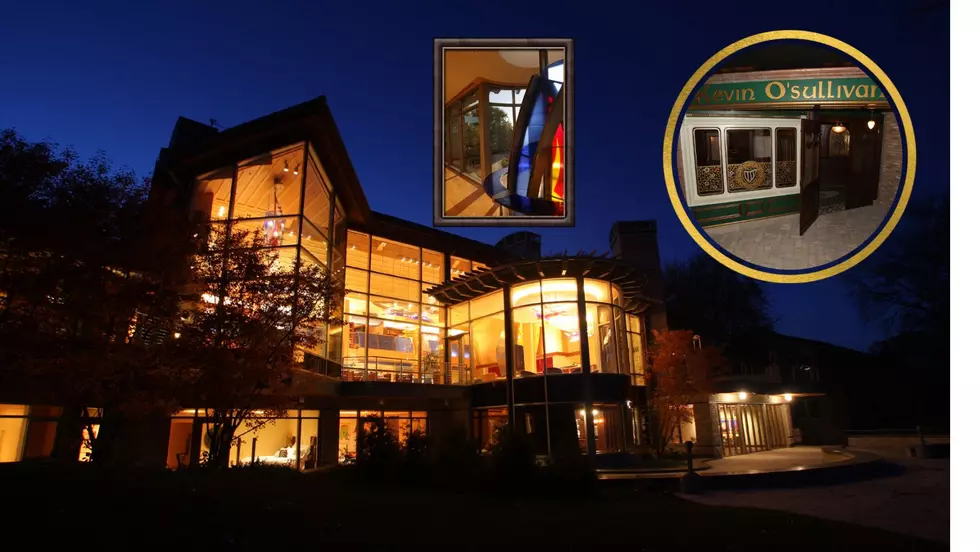 Must See! Iowa's Largest House is a Slice of Hollywood
Zillow/Canva
There's a place in northern Iowa that looks like it doesn't belong in northern Iowa.  It looks like it should be in California or at least on the coast of South Carolina.
And maybe it shouldn't be called a "house" at all. It reminds me of the wide-open floor plan you see when you visit a resort.  Where the bar/kitchen area is, could very easily be hosts checking you into your room and asking if you'd like to set up an appointment for a couples massage.
This house, nicknamed Peace Harbor, is in Spirit Lake, Iowa.  A scant 5.5 hours away from the Quad Cities, sits right on the banks of West Okoboji Lake.
Features
The 24,876 square foot house features 8 bedrooms, 15 bathrooms, and an elevator. There are 6 fireplaces
It comes with a "caretakers" apartment, an art studio, and a conference room for goodness sake.
There's a bar(a complete Irish Pub), laundry room, electronics room, and workout area
A theatre, billiard room, and a library.
You get 2 garages, a 4 car garage and a 2 car garage.
Asking Price? Only $9,900,000.
It's off the market now, but can you imagine how a home like this came to be? Here's how it started.
It started as a dream. A vision of a place where people would gather. A place that would inspire.  A place that family would call home.   Peace Harbor is the dream home of Pure Fishing chairman Tom Bedell.  In 2002 he sat down with two friends, a general contractor and an architect, to discuss his concept for a place where he could live and entertain. He wanted rooms where he could hold fundraisers and events.  He wanted an intimate space where small groups of friends could gather and catch up with one another and he wanted fun rooms that would be filled with laughter and joy for his friends and family.  And so began the quest to assemble a dream team of artists who would help realize the vision and create a home that would be called Peace Harbor
-History and making of Peace Harbor
Let's take a look inside. Scroll through the photos and watch the video below of how this monstrosity came to be. We can dream, can't we?
The Biggest House In Iowa Will Give You Hollywood Vibes
Check out the biggest house in Iowa. It's called Peace Harbor and looks like it should be in Hollywood.
History and Making of Peace Harbor
57 Reasons Why Growing up in the Quad Cities Was the Best
Here are just a few of the reasons that made growing up in the Quad Cities awesome.
Old Elementary School Turned into "Old School Pizza"
You've never seen a school this cool!