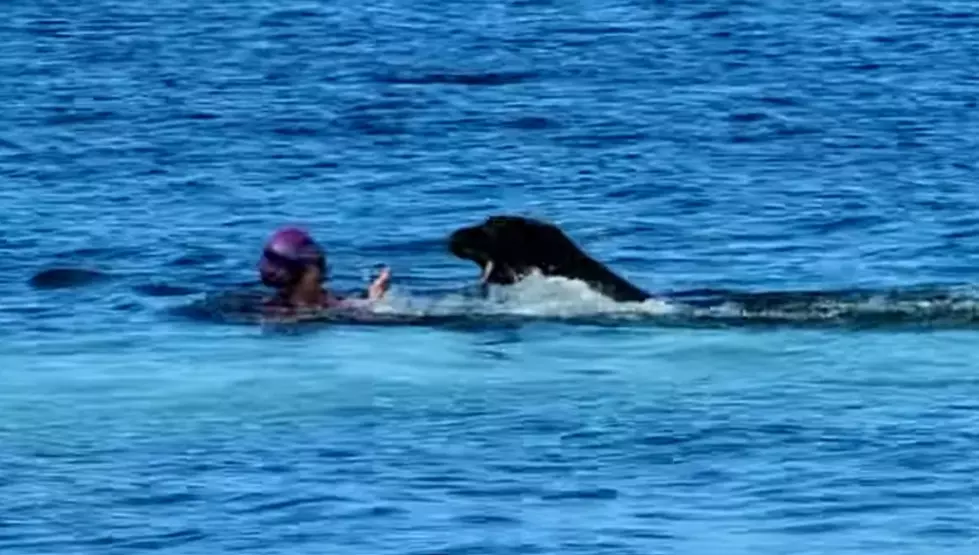 WATCH: Woman Swimming in Honolulu Attacked By Nursing Monk Seal
PHOTOluluTV via YouTube
A woman in Honolulu was attacked by a monk seal at Kaimana Beach on Sunday, and state officials say she did nothing to provoke the seal and didn't even know the seals were in the water.
Officials with the Hawaii Department of Land and Natural Resources (DLNR) investigating the incident say the 60-year-old California elementary school teacher was in the wrong place at the wrong time.
Officials say the woman's husband was recording his wife swimming from the 12th floor of their condo. Video he gave to the DLNR shows the woman swimming and at first, it appeared the seals were going toward the beach, but suddenly turned back and swam toward the woman.
"My wife had a swim cap on, and her head was in the water when both seals appeared. She could not hear 50 or so people on the beach screaming for swimmers to get out of the water. She then stands up and hears the people screaming and waving at her," the husband recalled.
The woman's husband met with lifeguards Monday with the hopes of identifying the men who helped get his wife to safety.
"I'm thinking she's going to die, by the time I get down to the beach. When I got there, three rescuers, including one in an outrigger canoe were bringing her to shore, while the seals were swimming toward them again," he told KITV.
A similar incident happened again Monday morning when the pup swam into the Natatorium and began barking and getting agitated with swimmers around 8am.
"Neither of us could sleep last night. Every time I closed my eyes, I was seeing the mother seal's mouth," the woman told KITV. "I'm a teacher and I care a lot about the environment and wildlife. I teach conservation to my students. I've collected discarded fishing hooks and brought them to shore and three years ago I saw a sea turtle entangled in fishing line and reported it."
See the Must-Drive Roads in Every State