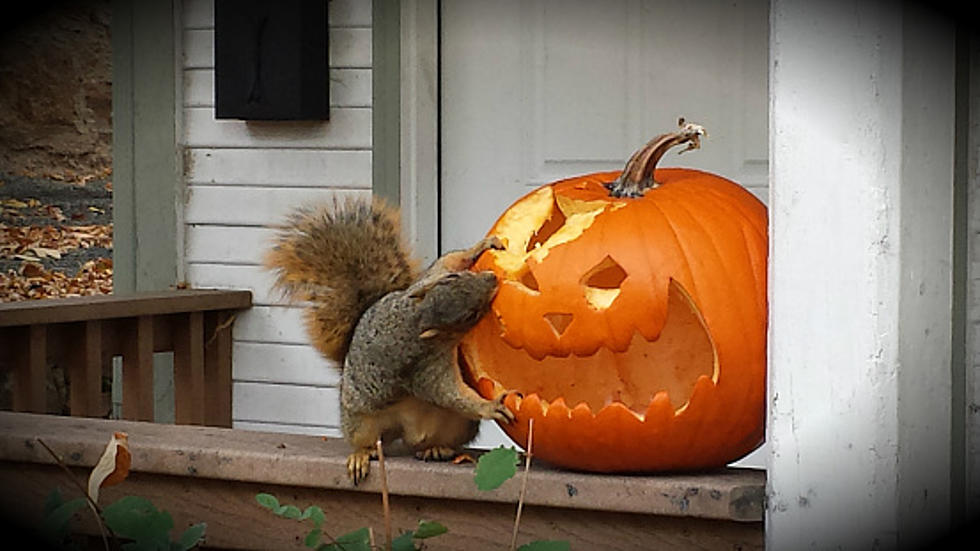 We Let Squirrels Carve Our Pumpkin And Here's What Happened
Getty Images/iStockphoto
As the leaves began to change and the thoughts of carving pumpkins came about, we couldn't help but feel too lazy to carve one ourselves. So Goose came up with the brilliant idea of letting the squirrels carve the pumpkin for us.
We had no idea this was a thing until Goose brought it up on the Dwyer & Michaels Morning Show. Goose explained he had filled a pumpkin with peanut butter years ago and the squirrels caved a face into it.
The two kids on the show, Megan and Hairball, decided they were going to try this out for themselves.
The process begins by poking several small holes in a pumpkin. These holes are then generously filled with peanut butter, acting as bait to attract the squirrels.
Once the pumpkin is placed outside, the squirrels, drawn by the aroma of the peanut butter, chew on the holes to reach their beloved treat, and in doing so, unknowingly create intricate designs in the pumpkin.
Critics might argue that these designs may lack the polished finesse of human-crafted pumpkins, but they cannot deny the unexpected appeal and the lively spontaneity of the squirrels' natural carving skills.
While the squirrels were hard at work, we wanted to get a timelapse video of the creative carvers. Below you can see how much wildlife activity we had here at the Rock N Roll Mansion.
Here is the final product of the Squirrel Carved Pumpkin. We even took it to the Halloween Ball to show it off.
Just kidding... Our final pumpkin carving was much more unsettling...
LOOK: Which movies were filmed in Iowa?
Stacker
compiled a list of movies filmed in Iowa using data from
Movie Locations
, with additional information about each film collected from
IMDb
.
Gallery Credit: Stacker