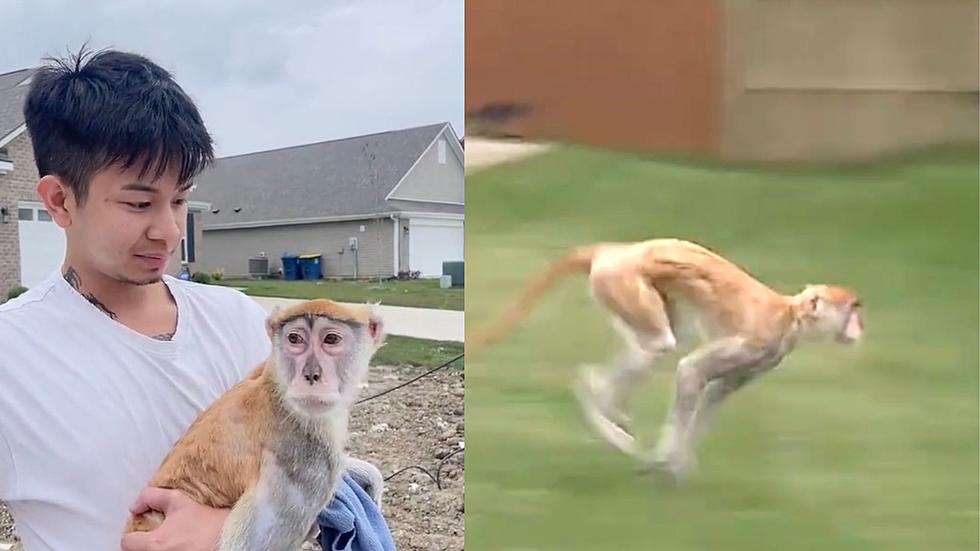 Monkey On The Loose in Indiana Spotted Drinking A Beer
WRTV News via TikTok
A monkey named Momo, who escaped from his home in the Indianapolis Metropolitan Police Department, had a sighting before his eventual capture, with the report that he was sitting and drinking a beer.
Indianapolis Metropolitan Police Department said Momo escaped from his owner's home in the Ironridge Court area on the west side of the city on Wednesday and was spotted in the Gate Drive neighborhood, about a quarter mile away.
Police said they were unable to confirm whether or not Momo has bitten anyone while on the loose.
At least one neighbor reported that Momo was seen drinking a beer that he'd found and pulled out of a garbage can.
Momo's owner previously reported the monkey missing in July, but then updated the post that he was found safe, and it looks like the same story has taken place with this escape.
Yesterday, the IMPD Tweeted "Momo the monkey has been captured safely. That was more than enough monkey business for us."
Indianapolis code allows for the ownership of "wild or dangerous" animals but requires them to be registered with animal care services.
Quiz: Do you know your state insect?
Stacker has used a variety of sources to compile a list of the official state insect(s) of each U.S. state, as well as their unique characteristics. Read on to see if you can guess which insect(s) represent your state.
Gallery Credit: Andrew Vale