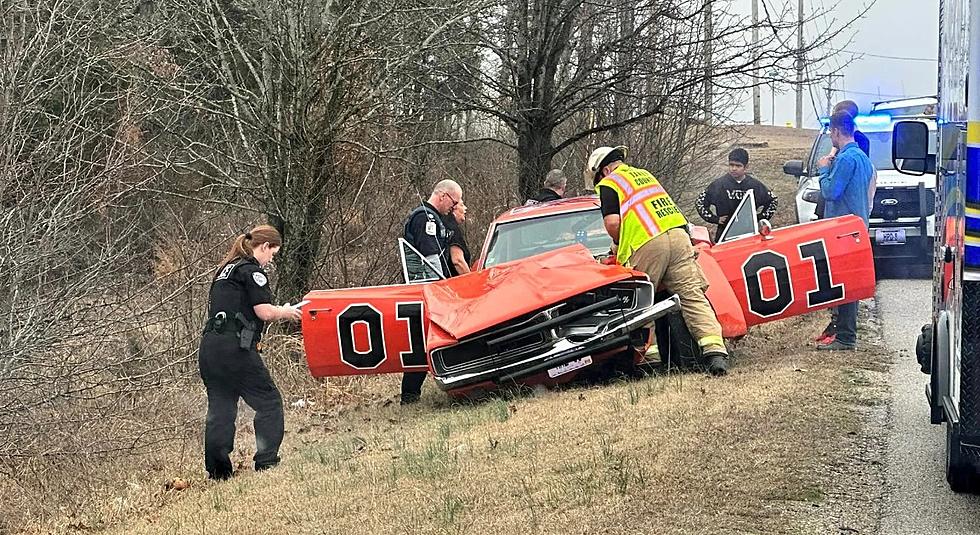 Missouri Loses One Of The Last Remaining General Lee TV Cars
Western Taney County Fire Protection District
A car crash involving a "General Lee" from the 1980s TV show "The Dukes of Hazzard" occurred on Sunday afternoon on Historic Highway 165 in Hollister, Missouri. The Western Taney County Fire Protection District posted about the incident, which drew attention from passing drivers.
Emergency services including the Hollister Police Department and Taney County Ambulance District arrived quickly on the scene. According to Hollister Police Chief Preston Schmidt, the driver of the vehicle was traveling too fast for the road conditions and lost control of the car.
Two people in the car were injured and transported to the hospital with moderate injuries, as confirmed by Schmidt. While the crash remains under investigation, no citations have been issued so far, and the identities of the drivers remain anonymous.
The "General Lee" car was made famous in the television show, with 309 cars used for filming. However, only a few cars survived the stunts performed during filming, with the rest being sent to a car graveyard. In 1991, Warner Brothers sold 17 cars to private owners.
The incident drew the attention of fans of the show, who took to social media to express their concern for the occupants of the "General Lee" car.
"Uh-oh! Looks like Boss Hogg has found a way to keep those Duke Boys out of the "Hazzard 500" this weekend… now they'll never win the Cash and Uncle Jesse is gonna lose the deed to the Duke Farm… stay tuned folks, we're in a whole heap of trouble!" Mike Schario commented, referencing the voiceover heard at the end of the show's episodes.
Brittnie wrote "I know those guys. Been in trouble with the law since the day they was born."