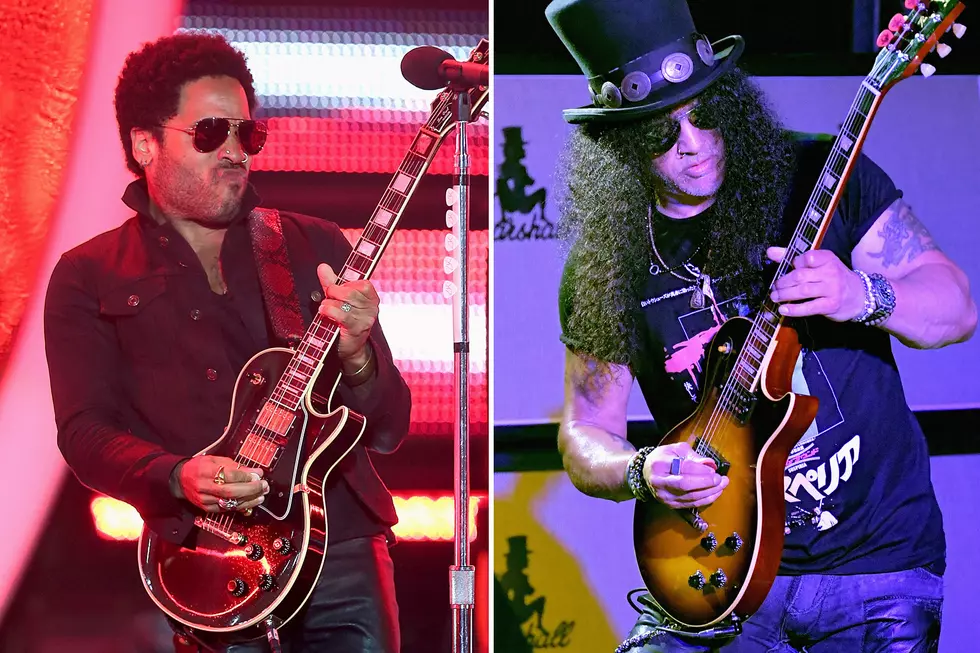 Lenny Kravitz Recalls 'Fluid' Studio Experience With Slash
Thomas Niedermueller / Neilson Barnard, Getty Images
Lenny Kravitz recalled the "fluid" experience of reuniting with former schoolmate Slash for his 1991 album Mama Said, and explained why he let the Guns N' Roses guitarist record only one take of his solo for "Fields of Joy."
The pair reconnected at an awards ceremony and decided to work together while Kravitz was in the process of making his second LP, and the first collaboration was the addition of a lead guitar track to the already-written song.
"Slash and I went to high school together, but we hadn't seen each other since," Kravitz told Music Radar in a recent interview. "When my first album was out, I went to the American Music Awards and Guns N' Roses were getting awards and they were sitting in front of me. He and I just kept looking at each other.
"Then we realized we knew each other from school. So we started talking and were excited to meet each other again, especially the fact we were both making music. I was doing some overdub sessions for Mama Said, so he came in and played the solo on 'Fields of Joy.' It was a one-take solo and he wanted to play it over again, but I wouldn't let him. I always love first takes."
Listen to Lenny Kravitz's 'Fields of Joy'
Having enjoyed the experience so much, they decided to write a song together on a later occasion. "We started to jam, and that riff to 'Always on the Run' ended up coming out," Kravitz recalled.
"The song just wrote itself. To cut the track, he played the riff, I was on the drums. So it was just guitar and drums – that was it – and we got through the take and then I played my guitar part, which is the counter-rhythm part. Then I played the bass. He played his solo and then I wrote the horn arrangement, had the horn players come in and that was that. Did the vocals. It was a great session. Really fluid, it was very quick and spontaneous."
Listen to Lenny Kravitz's 'Always on the Run'
On the subject of spontaneity and first takes, Kravitz cited the example of his classic song "Are You Gonna Go My Way," saying it had "happened in five minutes."
"There was another group getting ready to come into the next session … waiting in the hallway and getting a little pissed off because we were probably running over, like, 15 minutes," he recalled. "So we had to record that really quickly and run out and I had no idea what I had. ... I took the cassette home, put it in and wrote the lyrics and the melody and then came back the next day and sang the song. Then, although I dug it, I still really had no idea what I had. I had no idea that it was going to be that song, you know?"
Listen to Lenny Kravitz's 'Are You Gonna Go My Way'