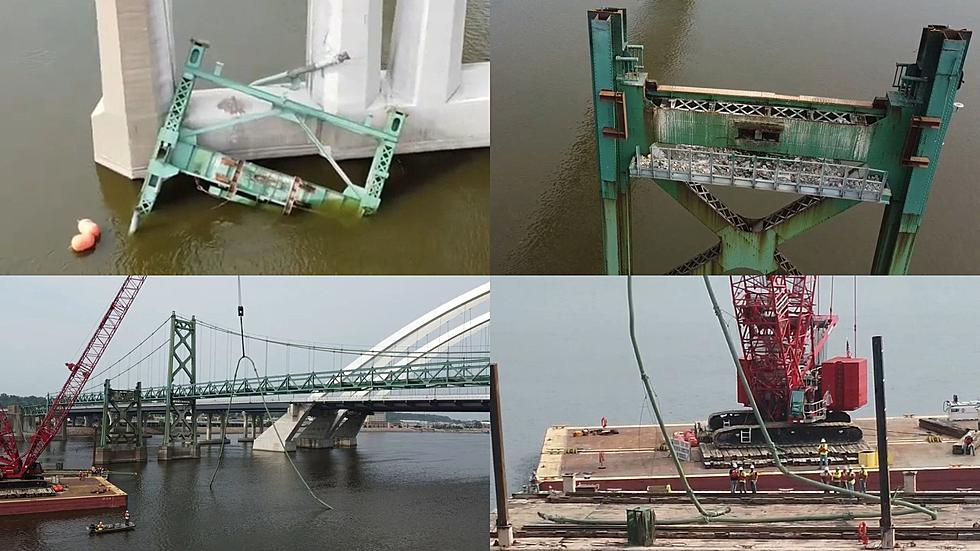 Here's What The I-74 Bridge Looked Like Post-Demolition
Randy Heggen
Our friend and drone videographer, Randy Heggen, has shared some cool video of the old span of the I-74 Bridge that was detonated on Sunday, June 18th.
The bridge was detonated as thousands lined the riverbanks to watch the span of the historic bridge blow and fall into the river below.
Randy's video shows where the pieces ended up, and the cleanup process.
The arches that were iconic to the bridge laid against their cement pylons below, waiting to be picked up.
As he closed in on the arches' former mounted points, you can see how cleanly the explosives broke the arches. In a previous video Randy shared, you can see that there were notches cut into one side of the arch, to control the fall once the explosives were ignited.
In the video there is also footage of the barges using cranes to pull the pieces of the bridge from the river.
Check out the footage Randy shared as well, the day before the demolition, where he got up close and personal with the span to show the preparation work that was done before the boom.
Quiz: Do you know your state insect?
Stacker has used a variety of sources to compile a list of the official state insect(s) of each U.S. state, as well as their unique characteristics. Read on to see if you can guess which insect(s) represent your state.