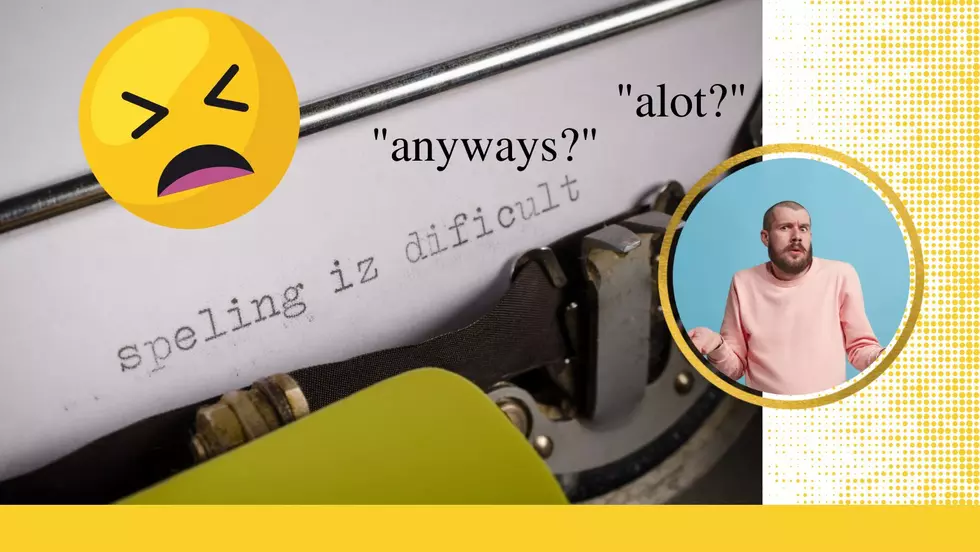 You Won't Believe What Word Iowans Misspell the Most
Canva/GettyImages
Sometimes having kids makes me feel....eh...less than smart.
Whether it's their using a new slang word and me having to check out Urban Dictionary, or helping with their homework and drawing a complete blank.
Then there's spelling...
There's no way I could just spit it out correctly, spelling bee style. I've got to write it on paper, then look at it, knowing something is wrong, and then enter it in Google so I actually "know" how to spell it.
We have so many resources we can use to help us spell more accurately. You can install grammar extensions in your browser and it's like having your own English teacher standing behind you correcting all of your mistakes. Predictive text on our phones can be a blessing or quite annoying.
When you think of words you can't spell what words come to mind? The word Iowans misspell the most will probably surprise you.
via GIPHY
Sometimes I really DO want to use the word that starts with an 'f,' but my phone replaces it with 'ducking.' Thank you, iPhone for cleaning up my language.

For some unknown reason, I get caught up with the word, 'commitment.' I always want to add an extra 't.' Thankfully with the help of Google, I can always type in a misspelled word and the search engine knows what word I really meant to use.
So what is the most misspelled word in the United States?
Turns out, Google keeps track of words we misspell. Google Trends specifically looked at searches that began with "How do you spell...," and the results are amusing. For example, do you know what word our country misspells the most?
"Excited" was the most misspelled word in the country. At least it's a positive word. In 2021 our nation had trouble with the word, 'quarantine.'
What about our neighbors in Wisconsin?
Here's the word Wisconsin had trouble spelling.
If you're a football fan in Wisconsin, 'lose' isn't a word you want to use, so I can see how it's often misspelled. Twitter is having some fun with this one.
What about our Illinois friends?
Let's take a look at Illinois. Here's the word Illinoisans struggle with.
Illinoisans have trouble with the word, 'anniversary.' Maybe it's better to misspell 'anniversary' as long as you don't forget to celebrate the actual occasion.
What is the most misspelled word in the Hawkeye state?
Here's the word you've been waiting for. It's the word Iowans find most difficult to spell.
Iowans misspell 'cousin' the most. Maybe Iowans plan a plethora of family reunions and want to ensure family members have the correct title.
Could be worse. West Virginia is having trouble spelling this.
At least Iowans know how to spell the state they live in. That's a very good thing. Do you want to see what words the rest of the country is misspelling? Here's the complete list. 
Speaking of signs, take a look at 20 signs our area may get hit with a terrible winter. 
Signs a Long Hard Winter is Ahead
Have you seen any "evidence" of a harsh winter ahead? Let's take a look at some Midwest folklore stories that could predict how early or rough our winter will be.
57 Reasons Why Growing up in the Quad Cities Was the Best
Here are just a few of the reasons that made growing up in the Quad Cities awesome.