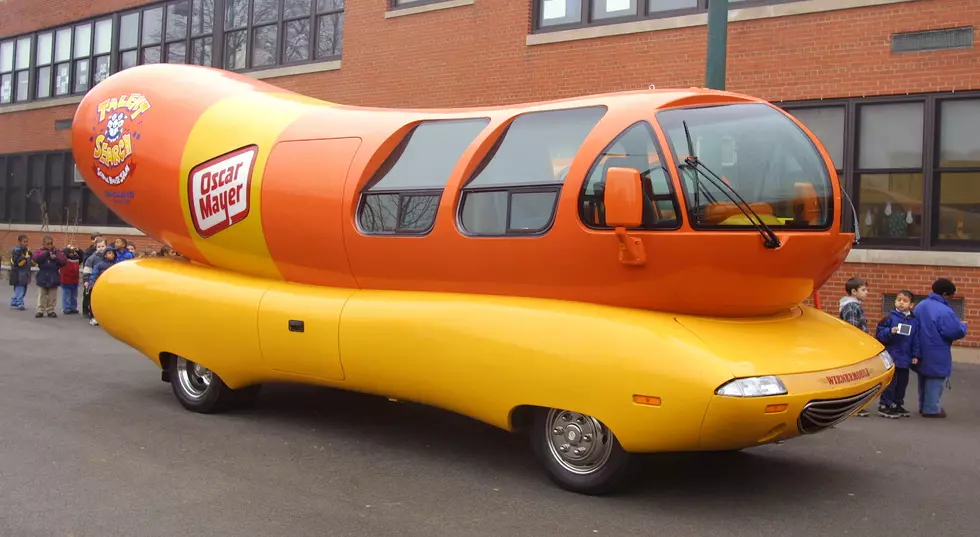 Join the Elite Few Who Get to Drive the Wienermobile as a Hotdogger
Getty Images
I guess if you're the type of person that would rather drive an M&M's Cruiser, a Skittles Tank, or a Pringles Bus than this job isn't for you.
Do You Have The Nuts?
Are you ready to represent the finest frankfurters on the market? Do you have what it takes to spread joy to all who lay eyes upon the giant wiener? If you think you have the guts to commit to a one-year contract and travel 20,000 miles to over 20 states, then this job is for you.
This job requires dedication, responsibility, and a love of hot dogs. It is not for the faint of heart. But for those who are up to the challenge, it will be the experience of a lifetime.
Apply now to live out the dream of driving the Wienermobile.
A Bite of Wienermobile History
The now iconic Wienermobile was created in 1936 by Oscar Mayer's nephew, Carl G. Mayer.  They wanted a way to attract attention to the brand and boost sales. The first Wienermobile was made out of wood but is now made out of fiberglass. Plus, there are six of them now each measuring 27 feet long.
How to Become a "Hotdogger"
The Wienermobile is driven by a team of drivers called Hotdoggers, who are responsible for promoting the brand and handing out Wiener Whistles, small plastic whistles in the shape of a hot dog.
They are looking for "outgoing, creative, friendly, enthusiastic, graduating college seniors who have an appetite for adventure and are willing to see the country through the windshield of the Oscar Mayer Wienermobile."
You do need a BA or BS (preferably in public relations, journalism, communications, advertising, or marketing)
...and grandma said you were throwing away your education by partying too hard during college.
This Twitter Account Is Renaming Everyday Objects And They're Hilarious
We found this hilarious Twitter account called @TheCorrectNames. The account took photos of objects and animals and gave them the "correct name." We couldn't help but laugh when reading through these.
We wanted to share these funny new names with you, so here are 50 things that have been given the "correct names."
(WARNING) Some may be inappropriate.
Illinois Arcade House
If you want a place to entertain or be entertained...a short drive to Bloomington will put you right!