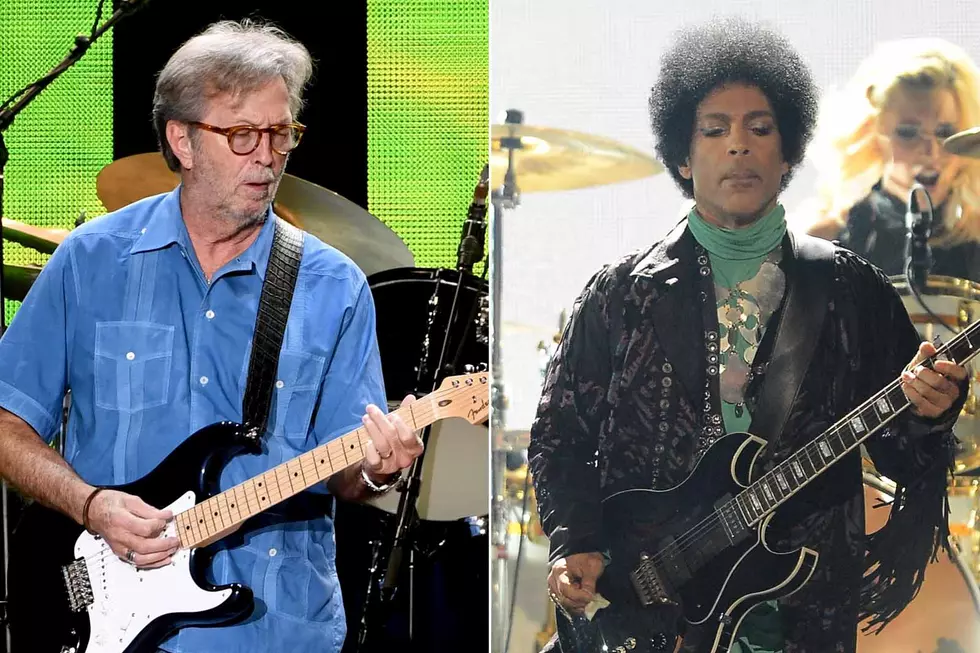 Watch Eric Clapton Cover Prince's 'Purple Rain'
Kevin Winter / Ethan Miller, Getty Images
One legendary guitar player honored another last night, when Eric Clapton performed Prince's "Purple Rain" during the first date of his three-night stand at London's Royal Albert Hall.
As the fan site Where's Eric notes, "Purple Rain" served as the encore of a show that started with a cover of "Que Sera Sera" as tribute to singer and actress Doris Day, whose death at the age of 97 had been announced earlier in the day.
You can watch the performance below.
Clapton's 17-song set also included favorites like "I Shot the Sheriff," "Layla" and "Crossroads."
A few days after Prince's death in April 2016, Clapton explained how he discovered Prince's music in the midst of a particularly dark time. "I'm so sad about the death of Prince," he wrote on Facebook.
"He was a true genius and a huge inspiration for me, in a very real way. In the the '80s, I was out on the road in a massive downward spiral with drink and drugs. I saw Purple Rain in a cinema in Canada, I had no idea who he was, it was like a bolt of lightning! In the middle of my depression, and the dreadful state of the music culture at that time, it gave me hope. He was like a light in the darkness. I went back to my hotel and, surrounded by empty beer cans, wrote 'Holy Mother.' I can't believe he's gone."
Clapton will play shows in San Francisco, Las Vegas and Phoenix in September in the run-up to the fifth Crossroads Guitar Festival, which will take place in Dallas on Sept. 20-21. As usual, Clapton will play both nights.
Eric Clapton Albums Ranked