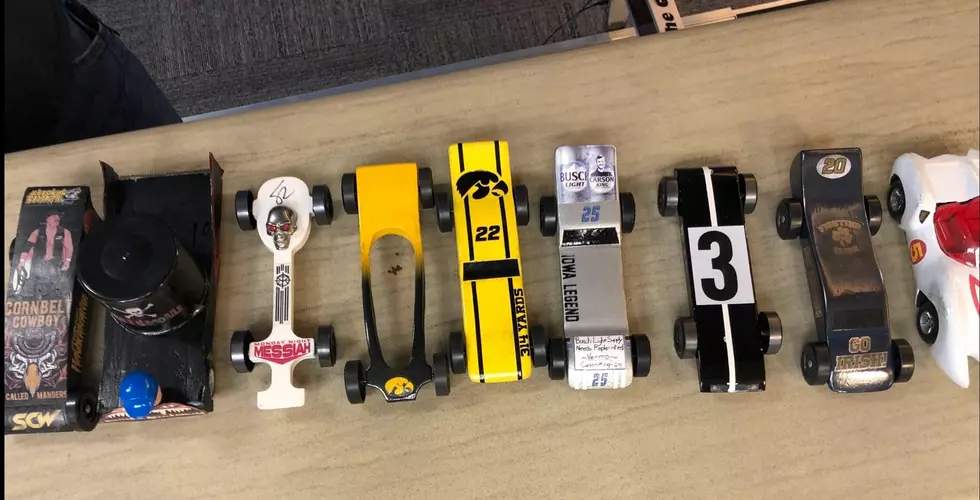 The '2Dorks Celebrity Pinewood Derby' Car Auction Takes Place This Weekend
Townsquare Media
Update: Seth Rollins' mom called the show to up the ante on his car in the auction. Saying that Seth will match the donation AND he has a special surprise for the winning bidder. Listen to our conversation with Holly (Seth's mom) below.
---
 Original: It's been about 3 months since we had some of the biggest names in the Quad Cities come to the Rock 'n Roll Mansion to race in a Pinewood Derby, to determine who was the best... Pinewood Derby Car Maker. The racers list started off with a few people, but quickly blew up once the Twitter world caught wind of it.
Pat Miletich (MMA Champion, Hall of Famer, and commentator)
Seth Rollins (WWE)
Michael Nunn (Boxing Champion)
Carson King (Iowa Legend)
Pat Angerer (Iowa Hawkeyes and Indianapolis Colts)
Jake Gervase (Iowa Hawkeyes and Los Angeles Rams)
"The Cornbelt Cowboy" Steve Manders (SCW Pro)
Alex Tanney (Monmouth Fighting Scots and New York Giants)
Tim Dwight (Iowa Hawkeyes and Atlanta Falcons)
Tavian Banks (Iowa Hawkeyes and Jacksonville Jaguars)
Acie Earl (Iowa Hawkeyes and Boston Celtics)
....And of course Dwyer, Michaels, and Goose.
      The Illowa Council will be auctioning off several of the cars (which are all signed by their creators), as well as some other signed memorabilia. In an interview, Jeff Doty told us they'll be running the auction until 9pm Labor Day. Join the council for "United Apart: A Virtual Evening at Loud Thunder." According to the website;
The evening will feature highlights of Loud Thunder Scout Reservation, Eagle Projects throughout our communities, program highlights, an online silent auction including several signed celebrity Pinewood Derby cars, and the opportunity to purchase special patches and a VIP package. The event will stream via Facebook Live. Illowa United Apart is free and open to the public. For up-to-date information, please check back!
Be sure to check it out, and raise some money for your local Boy Scouts. BTW, here's Seth Rollins reacting to his big loss.
Enter your number to get our free mobile app
What People Would Give Up To Never Pay Taxes Again