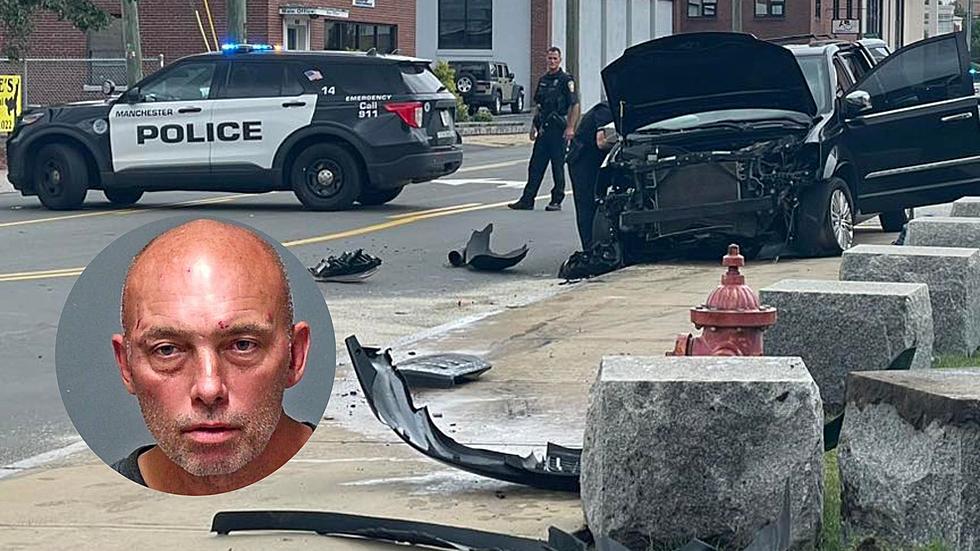 Suspect in Police Chase Crashes Car Into Police Station
Manchester Police Department
I would say there are a few places that you know you're going to get caught if you crash into them during a police chase, and one of those theories was reinforced by a police chase suspect who ended his chase somewhere more convenient for the police than himself.
53-year-old Barton Tibando of Nashua was running from the cops on Monday afternoon in a van used in an armed carjacking earlier in the day, according to the Manchester Police Department.
The police report says the van was traveling at a high speed and running red lights when it hit a vehicle going north on Maple Street.
The van then went out of control, hitting and uprooting four granite barriers in front of the Manchester Police Department.
No injuries resulted from the crash, police said.
Tibando ran from the crashed vehicle... directly into the police station parking lot. When confronted by officers, he refused to comply, so he was tased and then taken into custody.
Tibando has been arrested on a total of eight charges out of Manchester, including reckless conduct with a deadly weapon, receiving stolen property, possession of a controlled drug, conduct after an accident, driving after revocation/suspension, disobeying an officer, resisting arrest, and criminal mischief.
Nashua police charged Tibando with armed robbery, and he'll be arraigned at the South Hillsborough County Superior Court on Tuesday.
Read more at Boston.com
Quiz: Do you know your state insect?
Stacker has used a variety of sources to compile a list of the official state insect(s) of each U.S. state, as well as their unique characteristics. Read on to see if you can guess which insect(s) represent your state.