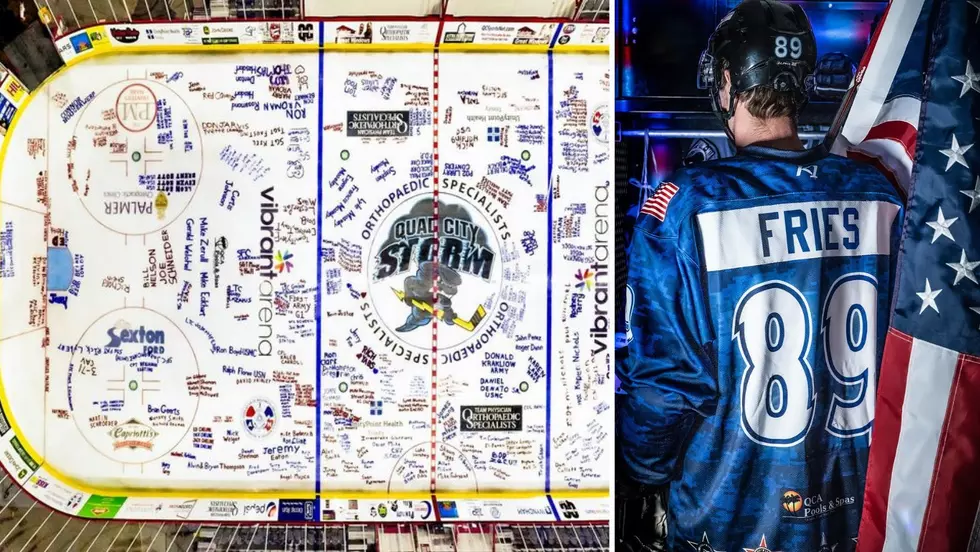 Quad City Storm Hockey Celebrating Veterans Day With Salute To Military Game
Quad City Storm
TONIGHT - Friday, November 11th - Veterans Day - The Quad City Storm is celebrating with their Salute To Military Night! (Presented by QC Pools and Spas)
On Monday, fans were welcomed into the area to paint the names of their loved ones who are serving or have served in the military. This was an all-day event where over a hundred names were painted with blue and red paint on the ice.
Here is a photo of the final result!
Tonight the Quad City Storm will take on the Vermillion County Bobcats for game 2 of the week. Last night the Storm took a 4-1 win against the Bobcats, and they plan to bring the heat once again.
The Quad City Storm is celebrating the Salute To Military Night with an enlistment ceremony on the ice at intermission and recognition for all service members/veterans in attendance in-game.
Post-game will offer a jersey auction of the blue camo jerseys the players will be wearing. The jerseys have an American flag on the shoulder and the branches of the military in stars along the bottom front.
Here is a photo:
The game starts at 7:10 PM at the Vibrant Arena in Moline, Illinois. We hope to see you there!
This Twitter Account Is Renaming Everyday Objects And They're Hilarious
We found this hilarious Twitter account called @TheCorrectNames. The account took photos of objects and animals and gave them the "correct name." We couldn't help but laugh when reading through these.
We wanted to share these funny new names with you, so here are 50 things that have been given the "correct names."
(WARNING) Some may be inappropriate.