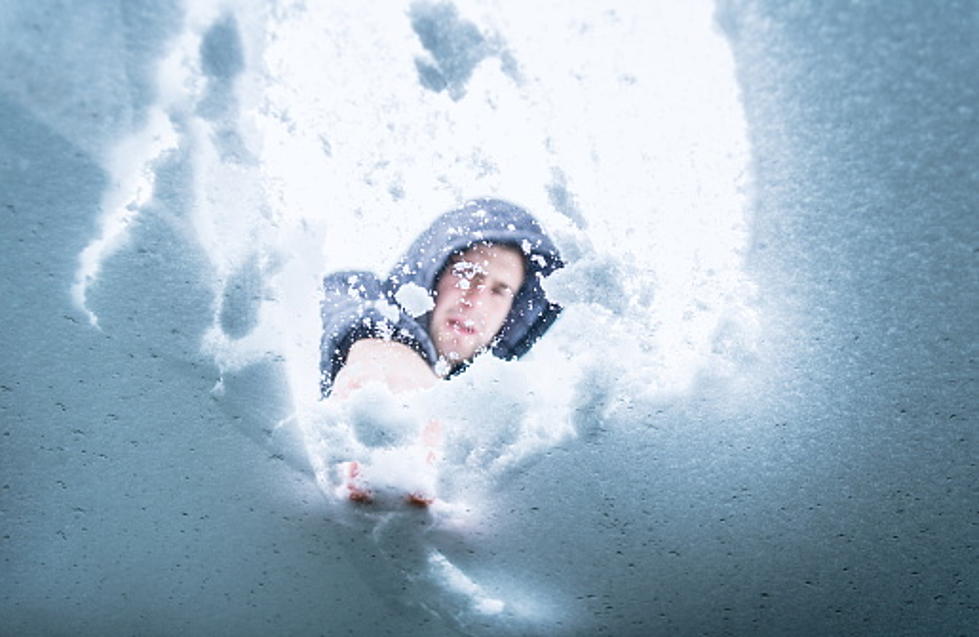 Quad Cities Weather Expert Answers Dumb Winter Storm Questions
Getty Images/iStockphoto
We have a new weather and news partner and we are glad to call them our BFFs. KWQC-TV6 had partnered with us to keep you informed about everything Quad Cities. With the major winter storm heading our way, we figured it was a good time to get one of the Quad Cities' best and best-looking meteorologists into the studio to give us some solid insight on this storm.
KWQC TV6 meteorologist Kevin Phelps stopped by the Rock 'n Roll Mansion on Wednesday to talk to me about all of the things happening with this intense winter storm.
Normally, people go to social media or slide in DMs to ask these stupid questions, but I figured while Kevin was here, I would ask him things like:
If I want to go to my mom's Christmas on Friday in Camanche, when should I leave on Friday or should I just stay home?
My in-laws are having Christmas this weekend and they live in north Iowa where it's supposed to be worse than here, should we go?
Are the roads going to be THAT bad?
If I travel east and west, I'm good, right?
You know, stupid questions like that. Because Kevin is awesome and a gracious human being, he answered those stupid questions I know are in your brain because I see them written on social media.
Kevin also explains what the system is going to bring when it comes to snowfall totals, wind gusts, extreme wind chill temps, and traveling this week and weekend.
Take a list because you're going to want to hear this information from an actual meteorologist, not that weird guy on your 12-person Iowa Facebook group you were invited to 3 years ago.
Thanks again, Kevin for joining me in the studio!
What's The Difference With Watches, Advisories, & Warnings?
First of all, what is the difference between a Winter Storm Watch, Winter Storm Advisory, Winter Storm Warning, and a Blizzard Warning? Here are the definitions, according to the National Weather Service:
Winter Storm Watch - BE AWARE!

A Winter Storm Watch is issued when there is the potential for significant and hazardous winter weather within 48 hours. It does not mean that significant and hazardous winter weather will occur, it only means it is possible.

Winter Weather Advisory - BE AWARE!

A Winter Weather Advisory will be issued when potentially dangerous winter weather is expected within the next 12 to 36 hours or is occurring. Travel difficulties are expected

Winter Storm Warning - TAKE ACTION

A Winter Storm Warning is issued when a significant combination of hazardous winter weather is occurring or imminent. That means dangerous winter weather is expected within the next 12 to 36 hours or is occurring. Major travel problems are expected in a Winter Storm Warning.

Blizzard Warning - TAKE ACTION

Similar to the advisory and the warning, a Blizzard Warning is when severe winter weather is expected within 12 to 36 hours or is happening. This includes whiteout conditions and no, a Blizzard Warning doesn't mean it's snowing like crazy but it means do not travel.
Officials said that Winter Storm Warning is in effect for the entire area starting today and will last through Saturday. We should expect 3 to 6 inches of snow to fall through Thursday, then strong northwest winds gusting between 40 to 50 mph Thursday through Friday night.
NWS officials say the snow and wind will lead to significant holiday travel impacts. Travel will become difficult, if not impossible, in rural and open areas because of the blizzard-like conditions.
Winter Storm Timeline
Here is the timeline graphic from the National Weather Service of the Quad Cities of the storm as it impacts the Quad Cities area over the next few days and into Christmas weekend.
How Much Snow Will We Get?
Even though the National Weather Service of the Quad Cities says the area will see 3-6 inches of snow, that will mainly be north of the Quad Cities metro in Jackson, Dubuque, Clinton, and Jones counties in Iowa.
The Quad Cities metro will see between 2-4 inches of snowfall, according to officials.
Extreme Wind Chills Will Follow The Snow
Additionally, expect dangerously cold wind chills, with values of -20° to -40° starting midday Thursday through Saturday morning. The extreme cold is expected to kick in starting midday on Thursday.
You can see how cold the wind chill is thanks to this fancy chart from the National Weather Service:
Gusty winds could bring down tree branches, leading to power outages. The dangerously cold wind chills as low as -40° could cause frostbite on exposed skin in as little as 10 minutes.
Make Sure You Are Prepared!
Take a look at this list and make sure you have the following items at home and in your car!
Keep scrolling for a full list with photos.
Essential Winter Emergency Kit Items
Winter season in the Quad Cities means cold temperatures, heavy snow, and slick roads. Hopefully, you won't ever need to tap into your winter emergency kit, but it's better to have one in your car than to be unprepared. Make sure you have these essential items in your car before winter arrives in the Quad Cities.
Join B100 At This Brand New, 5-Star, Adult-Only Resort In Mexico