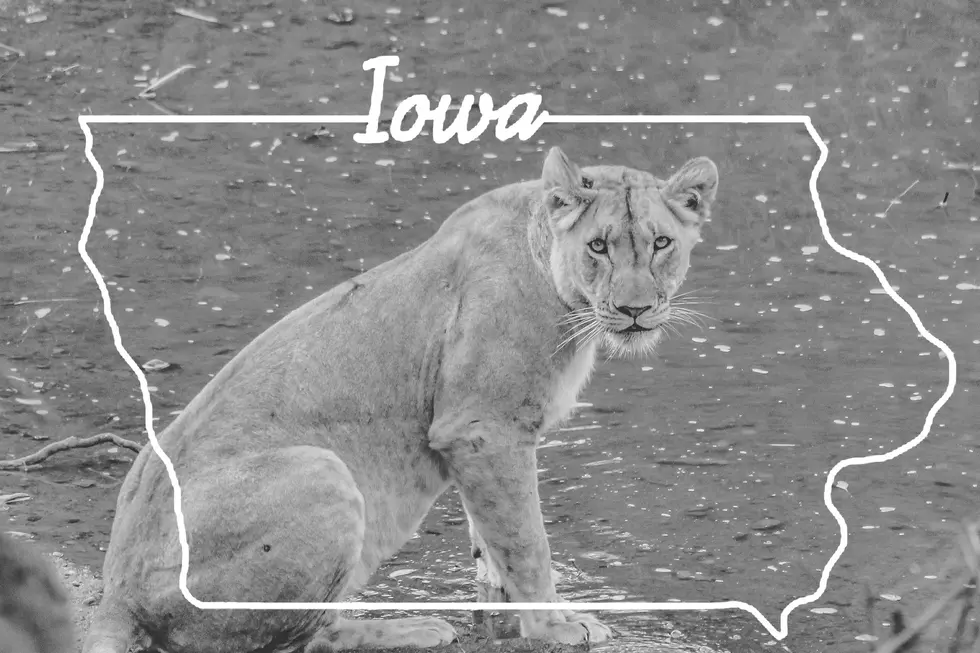 Police Say Mountain Lion in Central Iowa Outside of Des Moines is Headed East
unsplash.com
Mountain lions aren't supposed to be in our area.  Meaning, if you see one then it's far away from home.  Many times these rogue cougars come from Nebraska, South Dakota, or Wyoming and are searching for food.
It's generally not a concern, but when one is spotted within city limits it does make you think twice before letting your puggle outside.
Confirmed Sighting
Police in Indianola, Iowa (south of Des Moines) have confirmed a mountain lion has been spotted within city limits.  They say it is heading east.  While it's nothing to worry about now...it is something to keep an eye out for as it gets closer to the Mississippi.

How common are Mountian Lions?
The Iowa DNR says "It is very likely that we have the occasional mountain lion wandering through or staying in our state for a period of time, however, we have not documented a self-sustaining breeding population of mountain lions in Iowa at this time."
What to do if you see one
Stay calm. Don't spaz out!  If you yell and scream and run it will eat you.
Do not approach a lion. What are you, nuts?  Get out of there...slowly!
Do not run from a lion. Running away will make it chase you.  Now you're prey.  Great job.
Do not crouch down or bend over. If you squat or bend over the wild cats will think you're food. Avoid becoming food.
Are Mountain Lions Dangerous?
The great news is..."In the past 110 years 65 - 75 people have been attacked by mountain lions/cougars, resulting in 63 injuries, 20 of which were fatal, and none have occurred in Iowa."
Quad Cities 15 Sexiest Halloween Costumes
Halloween is a great time of year. It's a chance for people to dress up to be an entirely different person. Some people take the gory route, others jump in giant inflatables, and some people really want to show off what they have been blessed with. If you're looking to take the sexy direction for Halloween this year, these are the Quad Cities' 15 sexiest Halloween costumes.
.
Barbecue, Pizza, & Beer-Illinois' Route 84 has Some Hidden Gems This Time of Year
Road trips aren't complete until you've stopped into some hidden gems along the way.