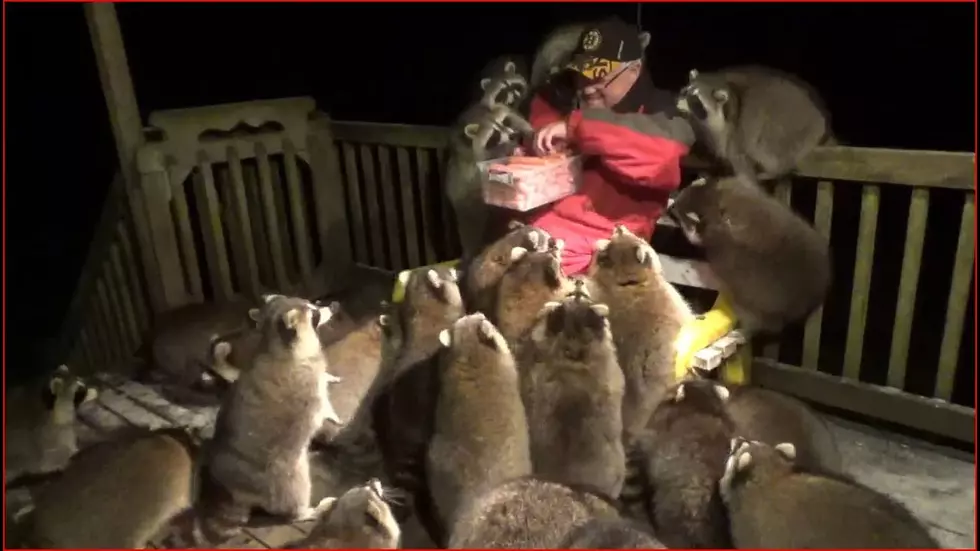 Meet "The Raccoon Whisperer", Whose Cute Videos Have Gone Viral
James Blackwood - Raccoon Whisperer via YouTube
Instead of dogs, cats, or birds, Jim Blackwood has a love for a less common human companion: Raccoons.
---
Jim might be the most interesting person we've ever talked to. Hear our full conversation with him below.
---
In a series of YouTube videos, Blackwood documents his story of rehabbing raccoons, in real time, over the last 20 years.
The animals all live in a nearby wooded area, and come by nightly to be fed by him.
Jim's biggest motivation for taking care of the animals started with his wife. She was taking care of the neighborhood raccoons, but when she passed in 2003, she asked her husband to take care of the critters.
Ever since, he's made it a routine to take care of the animals.
They all know who their buddy Jim is, and they for sure know where to go when they need some food.
Enter your number to get our free mobile app
CHECK IT OUT: The Best Movie Character Names of the 1980s