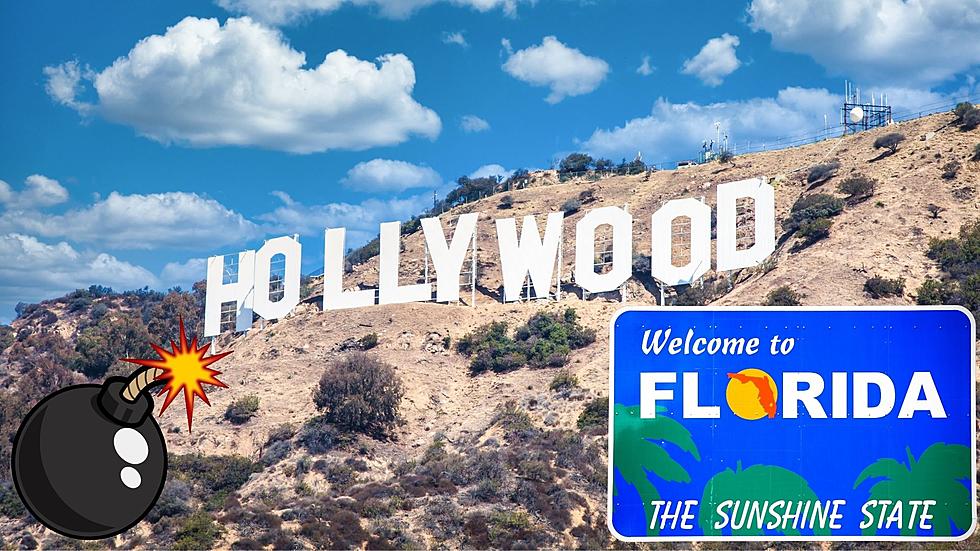 Man Threatens To Blow Up Hollywood Sign, Called The Wrong Hollywood
Canva
A man who has yet to be identified by officials made a ridiculous threat and a ridiculous demand, but called the wrong place, according to Fox News
The threat, was that this guy was going to blow up the Hollywood Sign in Los Angeles unless officials sent him $10,000.
That's right, 10 grand is the big payday he's looking for.
Well, he made a mistake that only a rookie bomb threat caller and someone who failed elementary school geography would make. He dialed the Hollywood Police Department to make the threat.
Obviously, there is no "Hollywood Police Department" because Hollywood is just an area of Los Angeles. So when he googled or told his smartphone to "Call Hollywood Police Department," he called the Hollywood Police Department in Hollywood, Florida.
Hollywood is just north of Miami, but south of Fort Lauderdale.
In the call to the police department 2,700 miles away, he threatened to destroy the landmark with pipe bombs, according to the sources who spoke to TMZ, unless of course, they paid their $10,000.
The Hollywood Police Department gave a call to the Los Angeles Police Department and gave them a heads-up on the bomb threat.
LAPD went up to the landmark Hollywood Sign and checked around to make sure that there weren't any bombs around, and after their search, they determined that this was not a credible threat at all.
The 45-foot-tall Hollywood Sign is on Mount Lee in the Santa Monica Mountains and isn't accessible by the general public. It sits under 24/7 video surveillance that goes directly to the Hollywood Sign Trust, a nonprofit that has taken measures to watch over the sign since it's been subjected to pranks and vandalism.
Read more at Fox News
LOOK: Baby names that are illegal around the world
Stacker
scoured hundreds of baby name databases and news releases to curate a list of baby names that are illegal somewhere in the world, along with explanations for why they're banned.