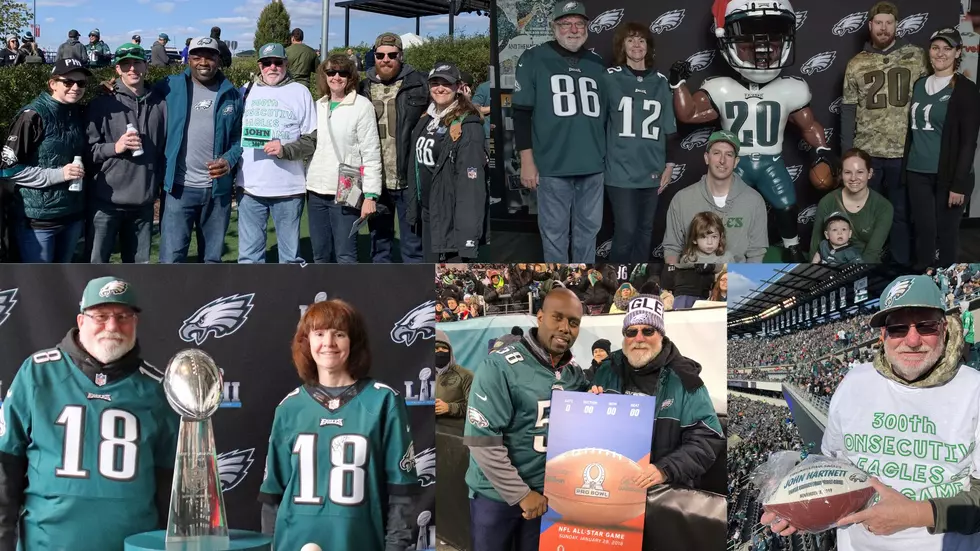 Lifelong Eagles Fan Has Attended 324 Consecutive Home Games
John Hartnett
No matter how big of a fan you might think you are of your favorite sports team, you'll never top this lifelong Eagles fan.
John Hartnett has been to 324 consecutive home games to see his team, the Philadelphia Eagles. 
John has seen a total of 427 Eagles home games, 324 of them consecutively. He uses a spreadsheet to track all of the games.
The only times he's missed any games, fans weren't allowed in the stadium, like during the COVID season when no fans were present for games.
This year, the Eagles finished their regular season with fourteen wins and only three losses, and they've pushed their habit of winning through the post-season, winning the NFC Championship, which set them up for the Super Bowl, but John didn't win the ticket lottery to go to the game.
Whether it's rain, snow, or sun, John has been in the stands, cheering on his team.
John is a real fan, showing up even when the team isn't doing good. He said his first game was in 1970, when a friend invited him to go. The game was at Franklin Field, but the team lost to the Cowboys.
In the next season, he went again, and the atmosphere in the stadium as the team took on the Denver Broncos got him hooked on going. In 1972, John bought season tickets. Back then, he only had to pay $5 for a game, and now he can't even park at the stadium for that price.
324 games is decades of games, with John's streak starting in 1982.
He's been to the Super Bowl to support his boys, going to Super Bowl 39. Sadly, the Eagles lost to the Patriots that year. This year, he's hoping for a repeat of the 2017 season.
Read more at WFMZ
The Eagles won the NFC Championship, and fans took to the streets to celebrate. Some hilarious videos have come out of the celebrations, like these guys who hopped on top of a bus stop.
It look like 11 of them climb on top of the shelter, then it looks like they learned that you can only fit 10 people on top of a bus stop shelter.
LOOK: The most extreme temperatures in the history of every state
Stacker
consulted 2021 data from the
NOAA's State Climate Extremes Committee (SCEC)
to illustrate the hottest and coldest temperatures ever recorded in each state. Each slide also reveals the all-time highest 24-hour precipitation record and all-time highest 24-hour snowfall.
Keep reading to find out individual state records in alphabetical order.