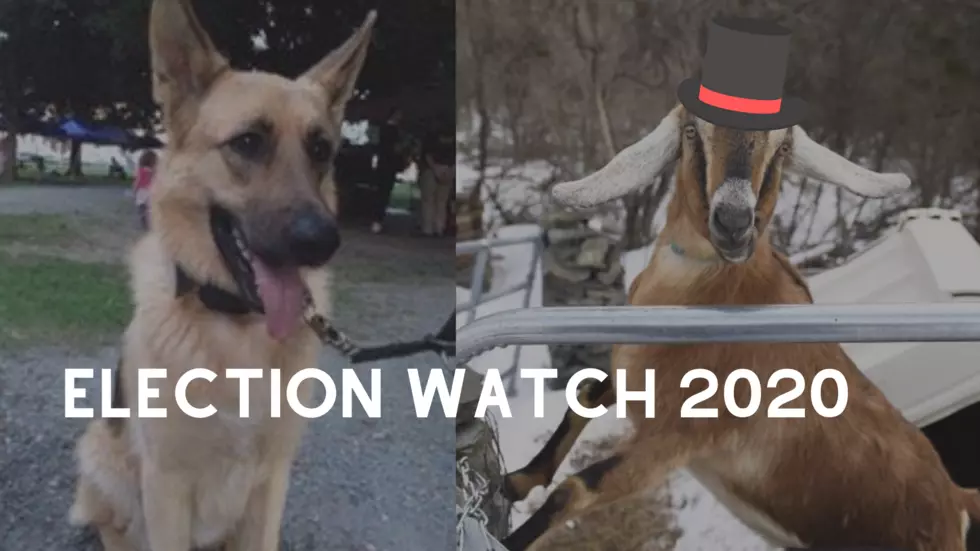 K-9 Challenging Incumbent Goat In Mayoral Race
Townsquare Media
The mayoral election of a small Vermont town is coming up in about a month, and a last minute entry into the race is proving to be a tough candidate to beat, and Fair Haven seems to be split down the middle over who to vote for.
A veteran police officer of the Fair Haven Police Department is throwing her hat in the ring, challenging the incumbent mayor who has only been in office for a year.
Officer Sammy is running on a platform "focused on earning a livable wage, fighting crime, expanding community involvement, and making Fair Haven playground a great place to enjoy your free time," according to a press release from her own police department.
There has yet to be a statement from the incumbent mayor, Lincoln, but Police Chief Bill Humphries says he's done well during his time in office; "Lincoln has done a great job. Lincoln has represented the community well and we thought it would be a great idea to say, 'come on, run for one more year,' and see if we can challenge him."
Mayor Lincoln the Goat, a 4-year-old Nubian goat, will be facing off against Officer Sammy the K-9 in the 2020 race. Last election, Lincoln only won by three votes. He was under scrutiny by the media after pooping in the mayoral office on his election day.
---
---
The election takes place March 3rd. Residents of the town will come to an event where voters pay $1 per vote. All proceeds from the mayoral race, campaign advertising and voting, go toward the construction of a new town playground.
The winner of the election will have the responsibilities of marching in parades and making other important public appearances.
Enter your number to get our free mobile app