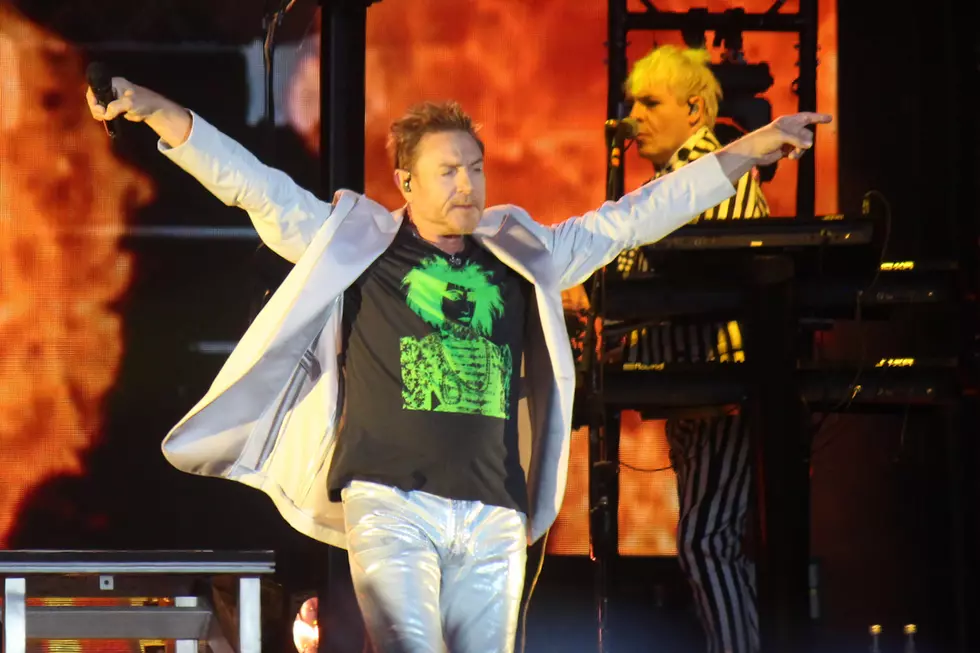 Duran Duran Kicks Off US Tour: Pictures, Set List
Ryan Hitch, UCR
Duran Duran played their first U.S. concert of 2023 with a set at the BottleRock festival in Napa, California on Saturday night.
The band opened with "The Wild Boys" before pumping up the crowd with their timeless 1982 single, "Hungry Like the Wolf." From there, Duran Duran rolled into their James Bond theme song, the titular track from 1985's A View to a Kill.
The band was in fine form on the evening, with frontman Simon Le Bon continually strutting across the stage and basking in the crowd's energy.
While classic material -- such as "Notorious," "Come Undone" and "Ordinary World" -- took up much of the set list, the group also found time for a few songs from their 2021 album, Future Past. Notably, they welcomed pop star Tove Lo to the stage to duet on "Give It All Up" (she also appears on the original, LP version of the track). The band also mixed in covers of Rick James' "Super Freak" and Melle Mel's "White Lines (Don't Don't Do It)."
Duran Duran briefly exited the stage after a triumphant rendition of "Girls on Film," but returned for an encore of "Save a Prayer" and "Rio." The full set list and pictures from the performance can be found below,.
The BottleRock set began a run of U.S. dates, marking the latest leg in Duran Duran's ongoing Future Past - 40th Anniversary tour. In a recent conversation with UCR, bassist John Taylor admitted he was pleased with the way fans have embraced the band's new material.
"I think that the hardcore fans appreciated it. You know it's not going to land the way our albums did in the '80s," he explained. "It's going to take a while. But that's the nice thing about doing lengthy tours like this is that you get to slowly unpack the newer songs, just a handful here and there."
Duran Duran at BottleRock 2023
Duran Duran, BottleRock Festival, Napa, California, May 27, 2023
1. "The Wild Boys"
2. "Hungry Like the Wolf"
3. "A View to a Kill"
4. "Notorious"
5. "Come Undone"
6. "Anniversary"
7. "Lonely in Your Nightmare" / "Super Freak"
8. "Friends of Mine"
9. "Careless Memories"
10. "Ordinary World"
11. "Give It All Up"
12. "Planet Earth"
13. "White Lines (Don't Don't Do It)"
14. "The Reflex"
15. "Girls on Film" / "Acceptable in the 80's"
16. "Save a Prayer"
17. "Rio"