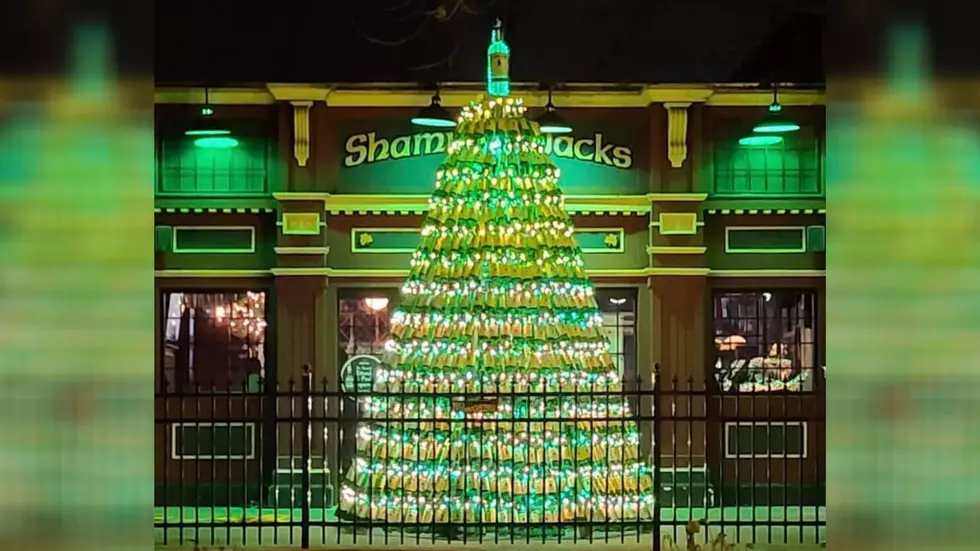 Irish Pub Builds Christmas Tree Out of Jameson Bottles in Memory of Employee
Shamrock Jack's Irish Pub via Facebook
Roz Hickey was known as a fixture at Shamrock Jack's Irish Pub in Irondequoit, New York for well over a decade, where she started as a bartender and worked her way to management.
Roz always took charge of Shamrock Jack's Christmas decorations, coming up with neat displays to get people in the spirit of the season.
Two years ago, when Mark Petzing returned from a trip to Ireland, he showed Roz a chandelier he came across that was made entirely out of Jameson bottles. That was enough to inspire Roz. She saved Jameson bottles for nearly two years collecting around 800 Jameson bottles, with the vision of creating a Christmas tree out of them.
Shamrock Jack was hit hard by shutdowns from the pandemic, but the biggest blow came when Roz died suddenly a couple of months ago.
Workers and regulars at the bar knew the tree had to be made, in honor of her, and they did just that.
9 hours of construction brought Roz's dream to life in the form of a beautiful Christmas tree.
Standing 15 feet tall, protected by a railing, the tree comes to life by a green floodlight and string lights.
Enter your number to get our free mobile app
LOOK: See what Christmas was like the year you were born