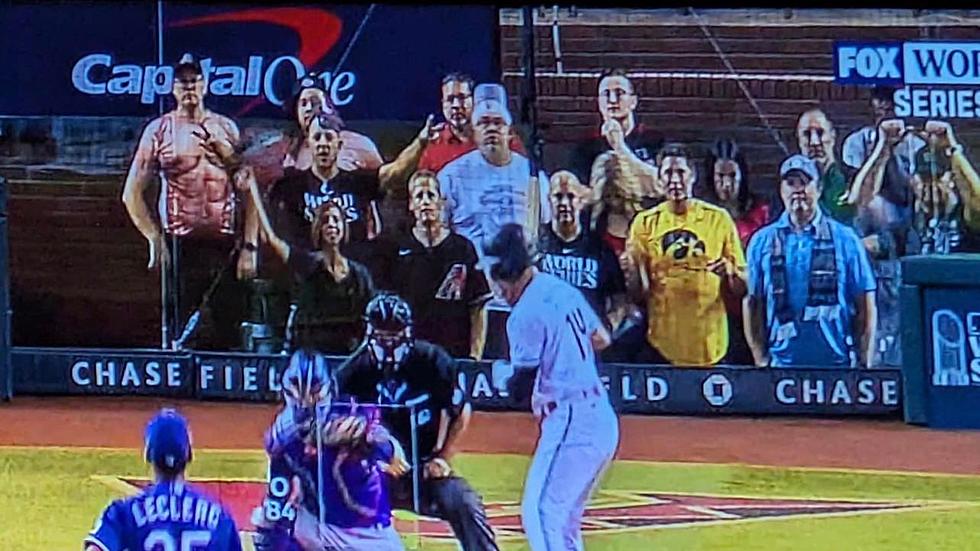 Iowa Fan Spotted Behind World Series Home Plate: "It Wasn't A Fair Catch"
Townsquare Media
An Iowa Hawkeyes fan was spotted behind home plate at Game 3 of the World Series, easily identifiable by his yellow t-shirt with the tiger hawk over the right shoulder of the home plate umpire.
The fan would periodically hold up a sign protesting the call that led to a loss for the Hawkeyes' October 21st matchup against the Minnesota Golden Gophers.
"It wasn't a fair catch," the sign read.
The sign references the "invalid fair catch" call that ultimately led the Hawkeyes to lose 12-10 against the Golden Gophers at home in Kinnick Stadium after what could've been the play of the year.
On a punt return from the 45-yard line, Cooper DeJean was able to dodge six defenders upon catching the punt and ran the ball in for a touchdown.
Moments later, the play was under review - and then the touchdown was taken off the board, with ref's citing an "Invalid Fair Catch Signal" rule.
They noticed during a replay that DeJean was waving his left hand as he ran to signal his team to back off of the ball, but any waving motion can be considered a way to fool the opposing team into thinking the player is calling for a fair catch.
Hawkeye fans have protested for weeks over the call, pointing out that the Minnesota players sure didn't seem to act like they thought it was a fair catch - with six players trying to take down DeJean as soon as he had possession of the ball.
Fans also pointed out that the refs didn't notice the call or blow the ball dead until after the play during a review to see if DeJean stepped out of bounds.
It'll be a play and a game burned into Iowa fans' brains for a very long time, as shown by this fan who brought the argument with him to the Arizona Diamondbacks vs Texas Rangers World Series game.