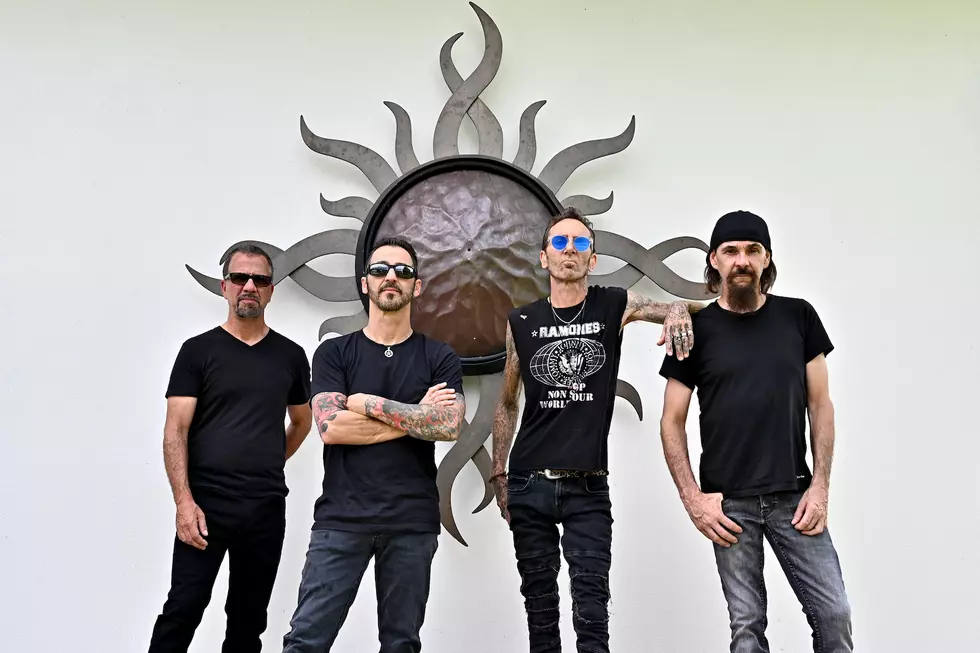 Here's The Answer Key To Dwyer's Dumb Game For Godsmack Tickets
Kamal Asar
1. What the lead singer tucks his hair under before going in to ask about a job, or what your favorite ballplayers wear on the field? 
ANSWER: Cap
2. Who you might wish "Good Day" to, or an old friend? 
ANSWER: Chap 
3. When you appreciate a good play at a sporting event or song at a concert. And what you might have gotten from the groupie at the concert? 
ANSWER: CLAP 
4. You can play this at a casino, or do this to your pants when scared? 
ANSWER: CRAP
5. The business end of an envelope, or what you'd need to do really fast with your arms if you wanted to fly?
ANSWER: Flap
6. When you needed cheap jeans in the 70's, or why your kids don't understand our generation's references? 
ANSWER: Gap
7. Stupid Cubs Outfielder who hit a grand slam yesterday? 
ANSWER: Ian Hap 
8. Your dog or cat can jump into yours while you're on the couch, Or maybe a stripper while you're throwing dollar bills y'all?  
ANSWER: Lap
9. You've never needed one since GPS? 
ANSWER: Map 
10. What you call dozing off while driving and listening to our show? 
ANSWER: Nap
11. The kind of test your doctor gives to to detect cervical cancer?
ANSWER: Pap
12. What Eminem does every day, but you try it once at Karaoke, and you're wife tells you you're drunk and to sit down?
ANSWER: Rap
13. What sticks to your windshield when you find the only shady space to park at work, or the sucker who just gave $5 bucks to the guy with the sign at the intersection on the way into work? 
ANSWER: Sap
14. A small bar fight, or in hockey when the gloves come off? 
ANSWER: Scrap
15. Chris Rock was the bitch at the end of Will Smith's? 
ANSWER: Slap 
16. Instead of buttons on your favorite western shirt? 
ANSWER: Snap
17. The lunatic former, then current singer for Creed?  
ANSWER: Stapp
18. Dwyer will stop traffic dead in it's tracks to pick up one of these on the road? 
ANSWER: Strap
19. Your favorite bar probably serves your favorite beer this way? 
ANSWER: Tap
20. What Admiral Ackbar found out too late? 
ANSWER: Trap
21. Michaels Favorite Cardi B Song? 
ANSWER: WAP
22. You want a sandwich, but you're too fancy to eat bread like a regular person, so you put the ingredients in a tortilla, or lettuce, or something dumb like that? 
ANSWER: Wrap 
23. What you're dad wants you to shut voluntarily, or he'll shut it for you? 
ANSWER: Yap
24. Usually happens right after you ask to not be tased?
ANSWER: Zap 
25. Nobody can agree on which of these to order at a restaurant first?   
ANSWER: App
LOOK: 25 must-visit hidden gems from across the US
From secret gardens to underground caves,
Stacker
compiled a list of 25 must-visit hidden gems from across the United States using travel guides, news articles, and company websites.