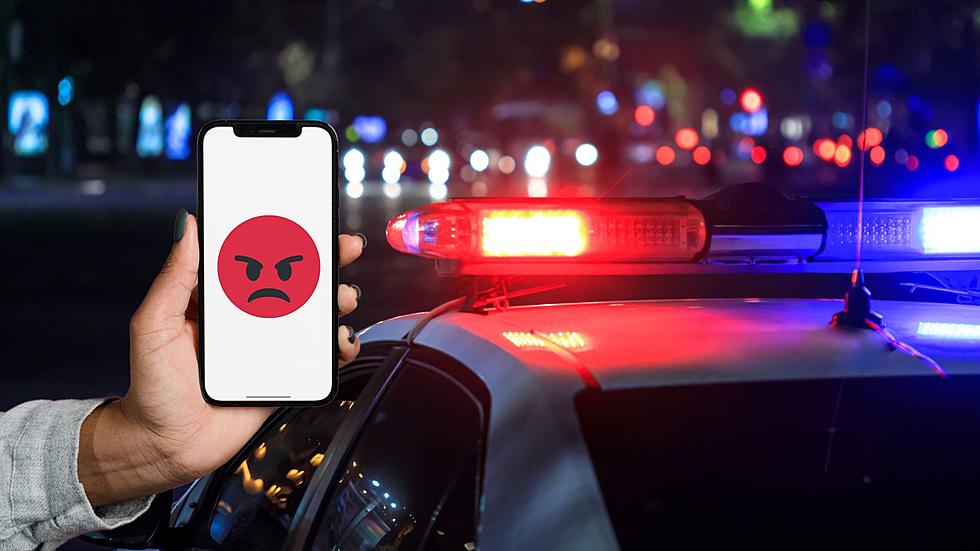 Heated Social Media Interaction Between Man and Police Goes Viral
Canva
Usually, we won't share battles between groups on social media, just because that's not our thing, but I feel the need to share this interaction because of the lessons we can all learn from it.
Too often today, we jump down each other's throats about the littlest things before we know anything about the situation. It's gotten worse with social media because we've started to take everything we see on the internet as fact, and pile on with the guys.
We chase followers instead of friends. Likes, Loves and Shares have become a currency that we value more than truth, more than decency. It's a currency that we all are guilty of valuing, a currency we all measure ourselves by, and we don't care what burns down to get there. All for a currency that doesn't even translate into real life. You might have 150,000 "likes" on a Facebook post, but you're still working a job you hate, for less money than you should earn.
Officer Called Out By Man
It started as a social media post from a guy named Matt, who saw a police car outside of a Circle K in Hodgenville, Kentucky. When he looked inside, the officer was behind the register, tagging some merchandise with price tags.
Assuming the worst, Matt posted a photo to Facebook, calling out the department about their officer doing something they shouldn't, or so they thought.
"Here's your tax dollars hard at work in Hodgenville, Ky. Whoever drives Unit #133 is placing price tags on merchandise behind the register."
Hodgenville Police Department Responds
To explain the situation, Hodgenville Police Department Chief Richardson shared a screenshot of the post on Facebook. He said that he appreciated the post.
I was just made aware of this circulating Facebook. I want to thank Mr. Thompson for sharing. Officer Sherrard's mother works at Circle K. With the amount of overtime we have had to put in to maintain 24/7 coverage, he stopped by to say hi and helped her for a few minutes while he was at work.
I have zero problem with this. HPD promotes a family atmosphere and I encourage our officers to spend as much time with their loved ones as possible. Officer Sherrard has earned the right to stop by and see his mom for a few minutes after the amount of time he has spent on the job the past two weeks. He is still ready to respond to calls regardless.
Of course, this prompted the original post to gain comments defending the police, calling out Matt for his posting of the officer without knowing the story. I don't agree with this either, but it was shortly after Chief Richardson's post that Matt issued an apology in the form of another post.
Matt Makes An Apology
"I would like to make a public apology to the Hodgenville Police Department and to Officer Sherrard for my post the other day. I was out of line. I am truly sorry. We all have bad days. This was one of mine. God bless all y'all."
Chief Richardson shared a screenshot of his post to update the police department's followers, as well as say that the apology was accepted.
Officer Sherrard commented on the post to say that it's no big deal, and that he accepted the apology.
There's a few valuable lesson to be learned here:
THINK. BEFORE. YOU. MAKE. ASSUMPTIONS.
THINK. BEFORE. YOU. POST.
THINK.
Really, if we all just used our brains a little more than we have been recently, we'd all be a little bit happier, and a little bit closer with each other.
As a kid, my dad drove me through a neighborhood looking at some homes that were bigger and better than where we lived.
"I hope it burns down," I said about a particularly big house.
My dad hit the brakes and skidded to a stop.
"If his house burns down, ours doesn't get bigger," my dad said. "We'd still go home to our house. If you think his house is too big, go knock on the door and ask him how he did it. He'll tell you he worked his butt off for it."
If we just stopped trying to tear down everything we didn't like, or didn't agree with, or didn't have, and worked to make ourselves better in general, this would be a better place for all of us.
Quad City Area Home With Waterslide, Stage & More Selling For $2.5 Million
This insane home for sale is just an hour away from the Quad Cities. Located at
26960 Sieverding Ridge in Bellevue, IA,
this beautiful home is what the realtor is calling "an entertainers dream". It has 4 bedrooms, 3.75 bathrooms, a 4-car garage, an in-ground pool with a 97-foot waterslide, a full lodge with a bar and stage, and so much more.
Troy and Tina Sieverding are the owners of the incredible home. You would find this listing on the
Dubuque Area For Sale By Owner website
, but the site is down. After a follow-up, they told us the house is back on the market and at a lower price of $2.299 million. Those interested in their home can get more information by
emailing the Sieverdings.
See what this gorgeous, $2.299 million home in Bellevue, IA looks like below.