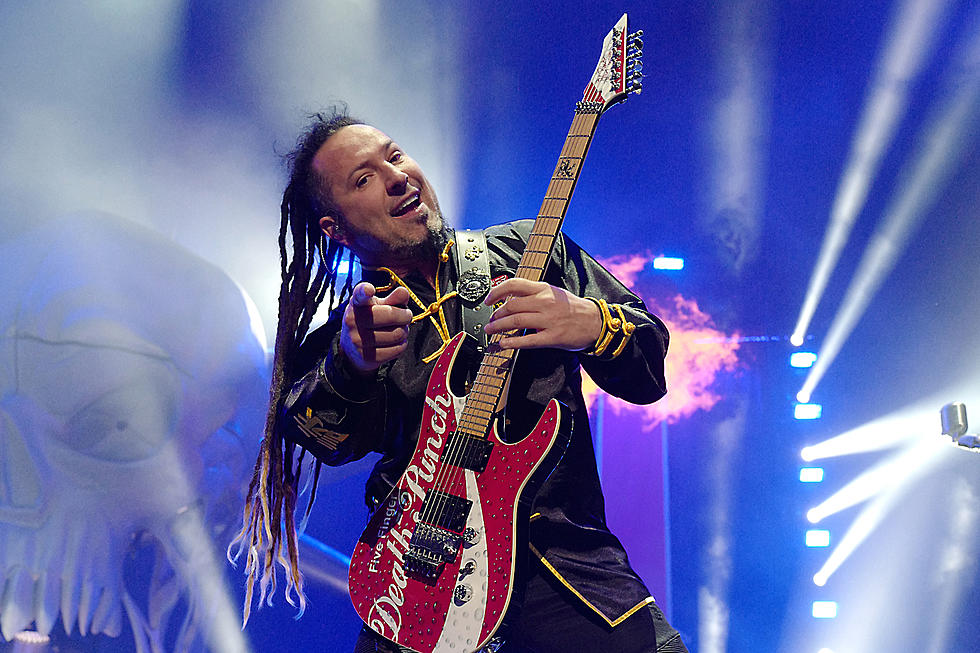 Five Finger Death Punch Are in the Studio
Adam Bettcher, Getty Images
Could we have a new Five Finger Death Punch album before the year is over? That remains to be determined, but what we do know is that new music is imminent as the group has just confirmed they're in the studio working on what will be their eighth full length.
"Day ONE in the studio," the band wrote on Twitter alongside a 60-second video clip where Zoltan Bathory arrives at producer Kevin Churko's studio in a yellow Lamborghini. Jokingly polling fans, Five Finger Death Punch asked, "What kind of record should we make ... Acoustic Death Metal - Polka Djent Fusion - Doom Funk Dubstep ... [thinking emoji] or..... ???"
In a second video showing some action from day two, we get a glimpse at the foolproof secret behind all those riffs. Turns out, it's an exercise ball that Bathory sits on and plays guitar. If he starts bouncing, well, the riff is a keeper and damn do they sound meaty.
Watch both clips at the bottom of the page.
The new record will be the first from Five Finger Death Punch since releasing And Justice For None last year and first since the departure of longtime drummer Jeremy Spencer.
"This decision has been weighing on me for months; and now the time has finally come. I started to play when I was six years old, and I feel fortunate that my body has provided me with several decades of doing what I love most: drumming," Spencer said in a statement. "However, the rigorous physical wear and tear has got me to the point where I feel I can no longer deliver a performance that brings me satisfaction and joy. I feel the band deserves to get someone with the fire and energy, capable of delivering the performance that the fans deserve. Like you, I will be cheering them on to continue making great music as they tour the world and bring exciting shows to all our cherished fans."
Five Finger Death Punch 2019 North American Tour Dates
July 11 — London, Ontario @ Harris Park (Start.ca Rock the Park Festival)
July 13-14 — Mansfield, Ohio ! Ohio State Reformatory (Inkcarceration Festival)
July 13 - Mt. Pleasant, Mich. @ Soaring Eagle Casino & Resort*
July 16 - Camdenton, Mo. @ Ozarks Amphitheater*
July 18 — Oshkosh, Wis. @ Ford Festival Park (Rock USA Festival)
July 19 — Cadott, Wis. @ Rock Fest
July 20 — Sioux City, Iowa @ Hard Rock Hotel & Casino
July 23 — Rochester, N.Y. @ Rochester Main Street Armory*
July 24 — Binghamton, N.Y. @ Floyd L. Maine's Veterans Memorial Arena*
July 26 — Gilford, N.H. @ Bank Of New Hampshire Pavilion*
July 27-28 — Bangor, Maine @ Darling's Waterfront Pavilion (IMPACT Music Festival)
* with In This Moment
See Five Finger Death Punch in the Top 30 Hard Rock Albums of 2018