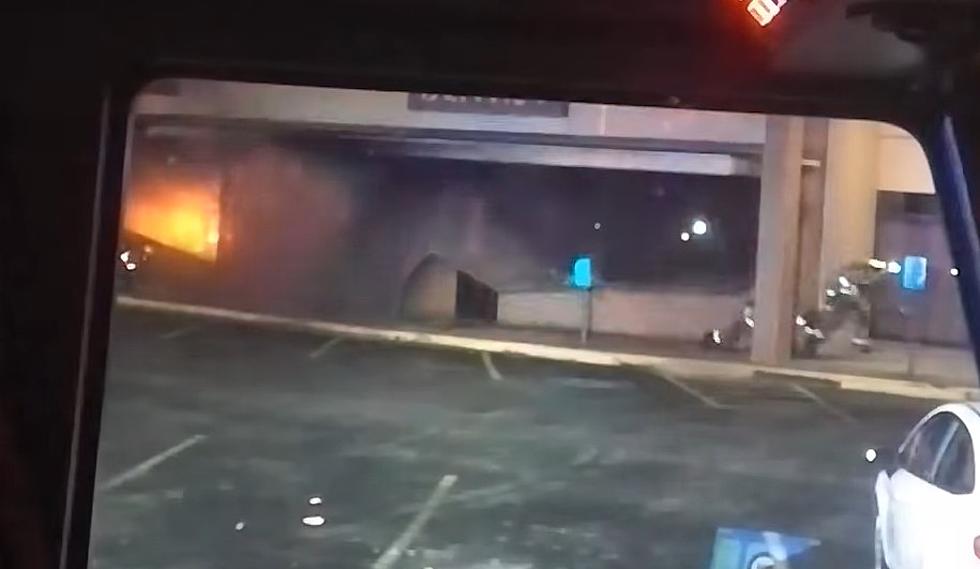 FD Releases Video Of Firemen Narrowly Escaping Awning Collapse
Longview Fire Department via Facebook
Last week, the Longview Fire Department out of Longview, Texas shared dramatic video from a fire they responded to that ended up injuring three firefighters.
According to the department, they responded to a commercial building fire on August 7th where they found 'heavy fire conditions.'
The video they shared showed that while one firefighter used the hose on visible flames, two others were looking to make entrance when the concrete awning above the front of the business collapsed.
As it collapsed, one had part of the roof drop on what looks to be their head and back. The other two near the door saw the collapse happening and ran for safety, but one got caught and was knocked down.
"Both firefighters were transported to the hospital with non-life-threatening injuries," the Facebook post stated. "A third firefighter received a burn to his arm and was treated on scene."
While fighting the fire, they seemed to be able to follow a theory on what started the fire.
"While on the scene, the Fire Marshal's Office detained a suspect for questioning," the Facebook post stated. "That suspect was later booked into the Gregg County jail and charged with arson and three charges of injury to the firefighters. This is still an ongoing investigation."
LOOK: Here is the richest town in each state
Just saying the names of these towns immediately conjures up images of grand mansions, luxury cars, and ritzy restaurants. Read on to see which town in your home state took the title of the richest location and which place had the highest median income in the country. Who knows—your hometown might even be on this list.