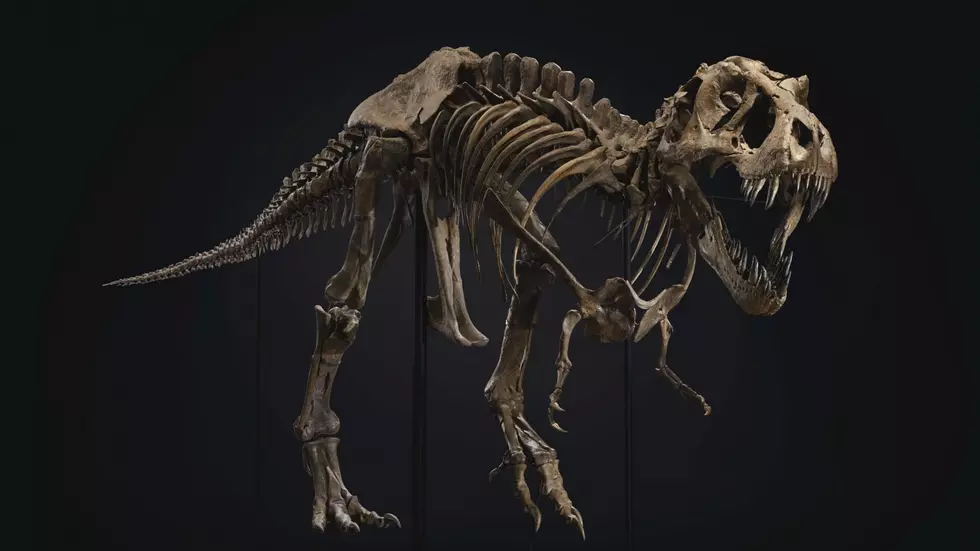 Enormous T. Rex Skeleton Sold at Auction for $32M
Christie's
In a sale that's been about 65 million years in the making, a nearly complete Tyrannosaurus Rex recently sold at auction for a ridiculously high price.
Christie's, a historic British auction house, recently handled the sale of a 13' tall, 40' long 188 boned T. Rex skeleton that sold for $31.8 million.
The skeleton was known as Stan, and in a statement from the house, the "impressive fossil skeleton stunned its virtual audience and smashed the previous world auction record." It sold for nearly four times it's estimated value, at $8 milion.
Stan was named after the paleontologist who discovered him, Stan Sacrison, who found him in 1987.
Auctioned by phone, the bidding war lasted 20 minutes before an unidentified bidder set the highest bid.
Stan has some holes in his neck and vertebrate, which scientists theorize is because of him being a fighter with other Tyrannosaurs. It's estimated that the dino weighed 8 tons.
I imagine getting a series of boxes delivered, with Ikea like instructions on how to put the dino back together. You're somehow missing 2 screws and your
Enter your number to get our free mobile app
KEEP READING: Check out these totally awesome '80s toys