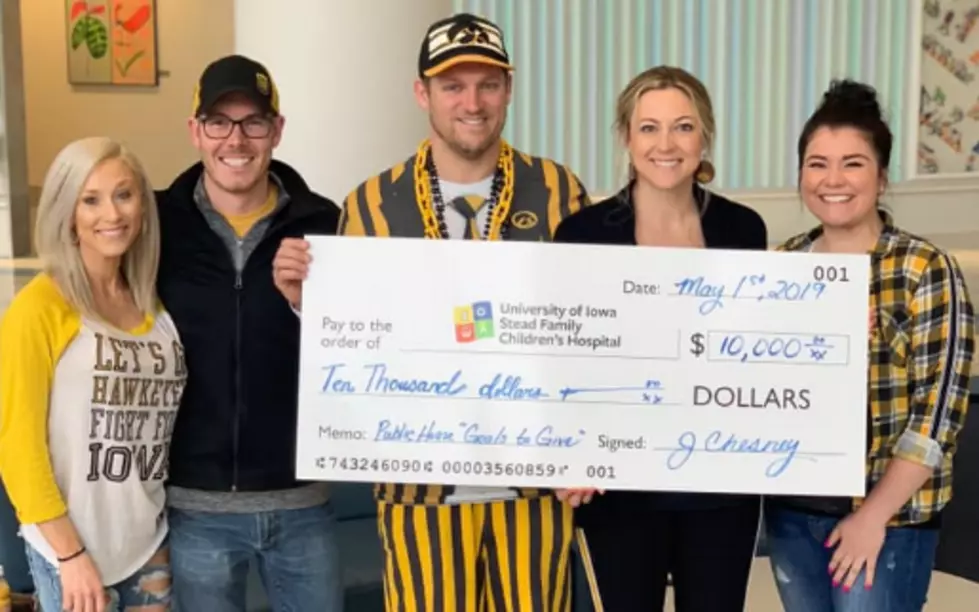 Davenport Bar Raises $10,000 For University of Iowa Stead Family Children's Hospital
Johnna Chesney
It's pretty remarkable when a group of people come together to do something good for the community around them. Luckily, here in the Quad Cities, there are never a shortage of those kinds of people.
So it was no surprise to me when scrolling social media and I see a post from the Public House in Davenport saying they had raised some money for the University of Iowa Stead Family Children's Hospital. But it turns out it wasn't just some cash lying around, this was ten grand!!
Owners of the pub and huge Iowa Hawkeye fans, Austin and Johnna Chesney, had set out to raise $5,000 for the hospital during the 2018 Hawkeye Football season, and they easily smashed their by selling t-shrts, bracelets, raffles and donations.
After four weeks they decided to raise the bar to $10,000 and by the end of the football season they were close to beating their next goal. They barely missed the deadline, but were able to come together with Jeno Berta Sr. and Jeno Berta Jr. from Jeno's Little Hungary to host a Hungarian Ghoulsh fundraiser.
That combined with local realtor and dancing machine, Nick Englebrect, winnings from QC Dancing With The Stars (he took 1st place... hence the name Dancing Machine) they were able to meet their goal.
This morning they took to Facebook Live to present the check to the staff at the hospital. Here's Johnna telling the staff about raising money...

Like I said earlier, there is no shortage of people doing great things in the QCA. It's a Midwest thing that I don't think people in larger metropolitan areas get to see. It's what makes the Midwest special and makes me proud to live here.
It's just really cool to see this kind of thing happening in the world around us, and I wanted to show you that.