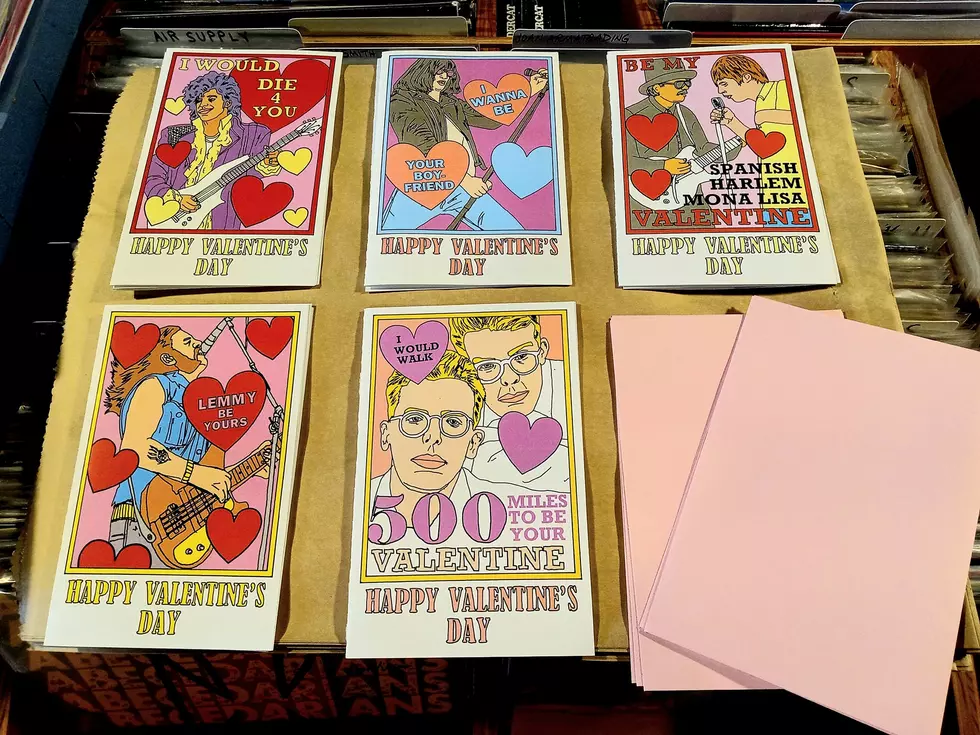 Are You Ready To Rock Your Valentine's Day? Exclusive Cards Now Available at Iowa Record Store
#ArtofJonBurns
Are you a bad gift giver like me?  Whether it's a birthday, Christmas, anniversary, or anything else, I never know what to get my loved ones.
The key to a good gift is to make it unique to the person you're giving it to.  You want their personality to shine through so it's as if it was custom-made for them.
I Think I Found the Perfect Valentine's Day Gift
Jon Burns is a renaissance man, in my opinion.  He's a talented musician, a snappy dresser, and a very talented artist.
He's come up with a brilliant idea for the rock & roller in your life this Valentine's Day.  The Rock & Roll Valentine's Cards feature legends such as Carlos Santana, Lemmy Kilmister, Joey Ramone & more!
When Inspiration Strikes
I asked Jon how he came up with the brilliant idea for rock & roll Valentines:
I've always been drawn to the pop art aesthetic and quality of the tangible Valentine's Day cards of the 80's and 90's that kids in classrooms would handout to one another. Many of them featuring a wide range of figures from cartoons characters, sports stars, and even rock stars. I think the bright pop art pastel color aesthetic of those Valentine's Day cards would work well with my own style.
Where Can You Purchase These Rock & Roll Valentine Cards?
Ragged Records has them for sale in their Davenport location at 311 E 2nd Street.
They are  $5 each but priceless in the heart of your music-loving partner.  So, support a local artist and give a gift that actually means something this Valentine's Day.
Iowa Stingray Home
This home is located in Cedar Rapids, Iowa. It holds two tanks, both around 300 gallons each. They both contain different types of stingrays. As for right now, this project is just for fun, though the owners do hope to someday breed these rays.
It's been about a 6-month process getting all the supplies, tanks, and stingrays.
You Can Book These Adorable Cabins In Starved Rock State Park
Getaway, a chain of cabins, has opened up an outpost in Starved Rock State Park. See the pics of the cabins!