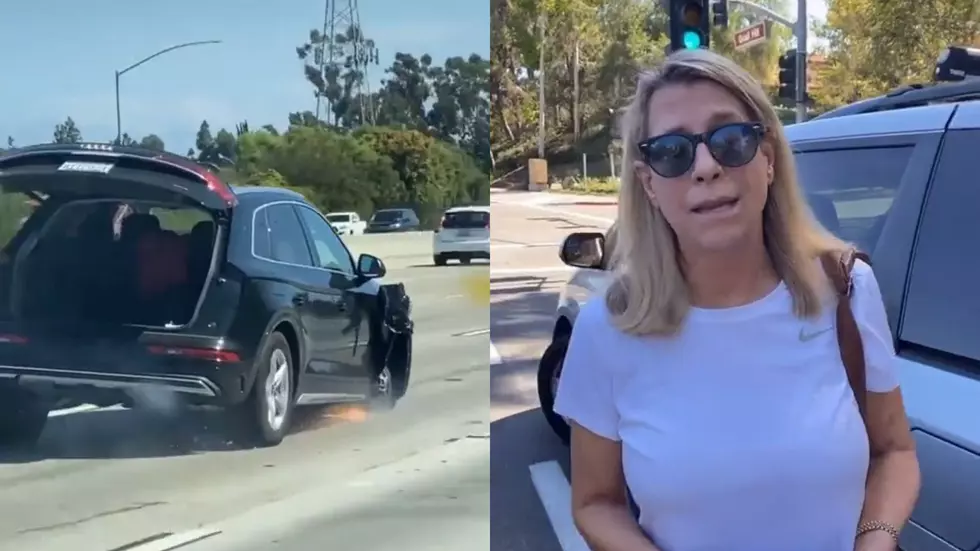 California Woman Driving On 3 Wheels Confronted By Civillian
Chad Towersey
A motorist driving on the 405 Freeway in Orange County was captured on video driving down the interstate with her tailgate wide open and a missing passenger-side front tire.
"Rather dangerous situation happening here on the 405, tailgate open. There's no tailgate party going on in sight," Instagram user Chad Towersey, who captured the video.
Sparks can be seen flying off of the passenger-side brake assembly as she drives down the road. It appears that the vehicle struck something as well, judging by the damage to the right side of the car.
A second video was uploaded, after Chad had followed her right to where she rear-ended another vehicle at a stop light - because she didn't have the grip to stop her car.
The woman seemed disoriented and Chad even found the missing wheel in the back of her car. The tire on the wheel was completely shredded.
The woman was confronted by Chad, she seemed a bit out of sorts - if not already the wheel in the trunk told you so.
"Are you on drugs right now?" Chad asked.
"No! My car gave out and I had somebody help me before and apparently the brake did not stop," the woman said.
"Did you know your car is driving on three wheels right now? Your wheel is completely gone and you just crashed into this car right here," Chad said. "You're a hazard driving like this on the freeway."
"Okay, I'm going to trade it in for -" she starts to say before Chad cuts her off and tells her to get out of the car.
Chad accuses her of being on pain medicine, which she maintains she's not and that she's fine. As she slides out of her car, Chad points out that the car isn't even in park.
Then, as she moves away from the car, Chad notices something on her seat that might be Altoids, or it could be some kind of medication.
Soon after, police arrived and Chad had to leave for work, but we can assume that the police didn't take too kindly to walking up to a car that had been driving down the 405 with a missing wheel.
Check out the video here:
LOOK: The top holiday toys from the year you were born
With the holiday spirit in the air, it's the perfect time to dive into the history of iconic holiday gifts. Using national toy archives and data curated by
The Strong
from 1920 to today,
Stacker
searched for products that caught hold of the public zeitgeist through novelty, innovation, kitsch, quirk, or simply great timing, and then rocketed to success.