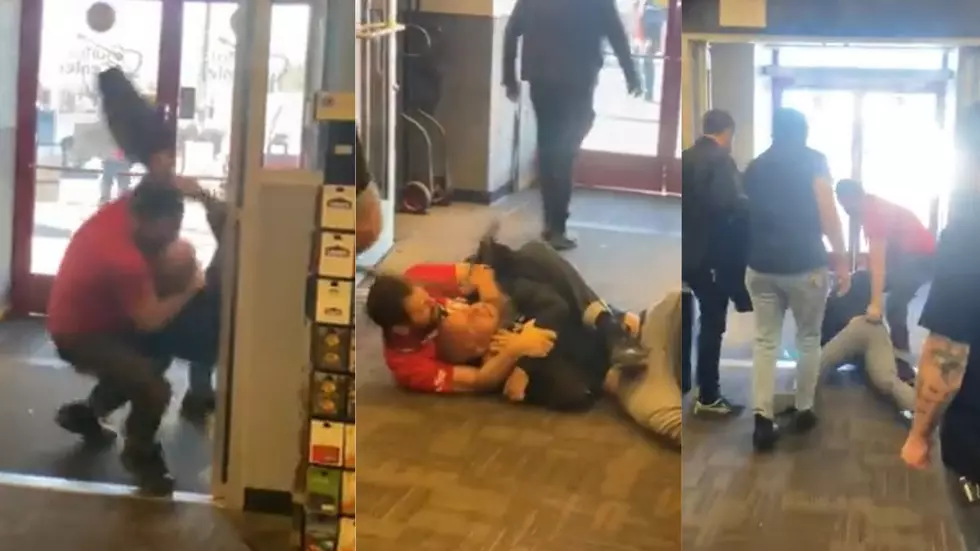 Video Shows Guitar Center Employee Take Out Violent Customer
Dan Smotz via Twitter
In a viral video shared to Reddit, a man who works for an Albuquerque, New Mexico tackles a person who was causing trouble in the store.
The employee was chasing the no-so-much-of-a-customer who, according to the person recording the video, had not only just tried to steal some stuff, but had also assaulted another employee.
As the assailant moved towards the door, he picks up an acoustic guitar and starts swinging it around, to try and break it - and that's when the takedown happens.
"Alright, you're gonna leave right now, do you understand me? Do you understand me?" The tackling employee said. "You are leaving this store right f***ing now, alright? Gonna gently let you up. Get up, get the f*** up."
Well, the assailant had already been choked out, so the employee grabbed the man by his shirt and belt loop, and carried him out to the sidewalk outside of the store.
Now, in New Mexico, employees are allowed to detain suspected shoplifters to recover stolen merchandise, the Albuquerque Journal said. Many corporate policies forbid employees from pursuing shoplifters or getting physical with them.
That obviously doesn't matter to this guy, who felt he needed to step up to the plate to protect his coworkers, and I'd say he did exactly that.
Multiple commenters are saying things along the lines of "They're really taking that 'No Stairway' rule pretty serious," a reference to Wayne's World.
Others are calling the employee the "Guitar Hero."
This Iowa "Bargain Mansion" Has Captured TikTok's Attention
A home for sale in Ottumwa, Iowa was featured in a TikTok because of it's size and it's very light price tag.