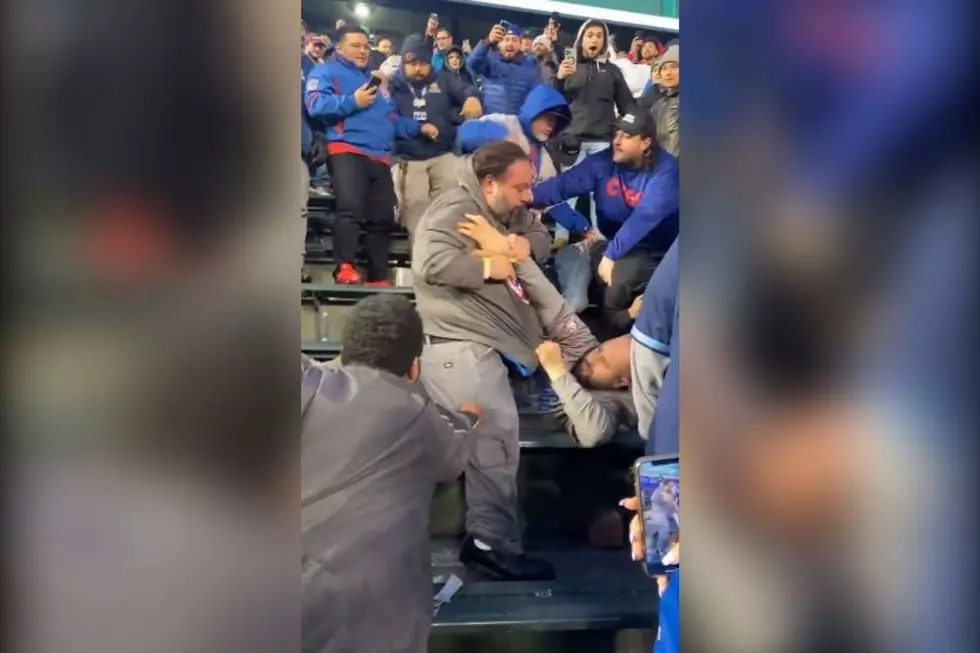 VIDEO: Cubs Fans Get Into Crazy Fight In Bleachers During Tuesday Night's Game
Baseball Fight Club
Typically when you hear about fights at a baseball game, it's when the benches and bullpens clear because a pitcher took a cheap shot at a batter. But this fight happened in the bleachers of Wrigley Field during Tuesday night's in-town rival game between the Cubs and the White Sox. It's safe to assume it's fans of opposing teams fighting, right?
Nope.
The Chicago Cubs aren't doing too well right now. They are currently second to last in the NL Central right now with a record of 9-14 and 6.5 games back from first. The Cincinnati Reds are the only team doing worse in the division.
The Chicago White Sox on the other hand are currently third in AL Central with a record of 10-13 and are only 4.5 games back.
Tuesday night, the in-town rivals played each other at Wrigley Field for game one of their two-game series. The Southsiders took the win last night with a final score of 3-1 making their records what they currently are. While the Chicago Cubs lost the game last night, a few Chicago Cubs fans were the big losers during Tuesday night's game.
If you like baseball fights, both on and off the field, you need to follow Baseball Fight Club on Twitter. It's got pretty much every fight in Major League Baseball.
Tuesday night, they posted a video of a brawl breaking out in Wrigley Field's Budweiser Bleachers. With the Cubs and the White Sox playing each other, you would think the fight would be between fans of each team, right? No, these were just Cubs fans duking it out in the bleachers.
In the video above, you can see that everyone involved in this fight is wearing Cubs apparel. You can hear someone in the background yelling, "grab his d*** and twist it!", which is a quote from this viral video:
Security eventually comes to break up the fight but as we can all see clearly in the video, they do a terrible job.
Later on in the video, a very apparent intoxicated man is recorded repeating, "he's my ride home, he's my ride home..." and someone replied, "I don't think you're getting a ride home from him, buddy."
The White Sox and the Cubs play again tonight at Wrigley Field. The first pitch is at 6:40 p.m. and you can listen to the game on ESPN Quad Cities and over the air on 1170 AM and 104.1 FM.
Quad City Area Home With Waterslide, Stage & More Selling For $2.5 Million
This insane home for sale is just an hour away from the Quad Cities. Located at
26960 Sieverding Ridge in Bellevue, IA,
this beautiful home is what the realtor is calling "an entertainers dream". It has 4 bedrooms, 3.75 bathrooms, a 4-car garage, an in-ground pool with a 97-foot waterslide, a full lodge with a bar and stage, and so much more.
Troy and Tina Sieverding are the owners of the incredible home. You would find this listing on the
Dubuque Area For Sale By Owner website
, but the site is down. After a follow-up, they told us the house is back on the market and at a lower price of $2.299 million. Those interested in their home can get more information by
emailing the Sieverdings.
See what this gorgeous, $2.299 million home in Bellevue, IA looks like below.
LOOK: MLB history from the year you were born
Stacker
compiled key moments from Major League Baseball's history over the past 100 years. Using a variety of sources from Major League Baseball (MLB) record books, the Baseball Hall of Fame, and audio and video from events, we've listed the iconic moments that shaped a sport and a nation. Read through to find out what happened in MLB history the year you were born.