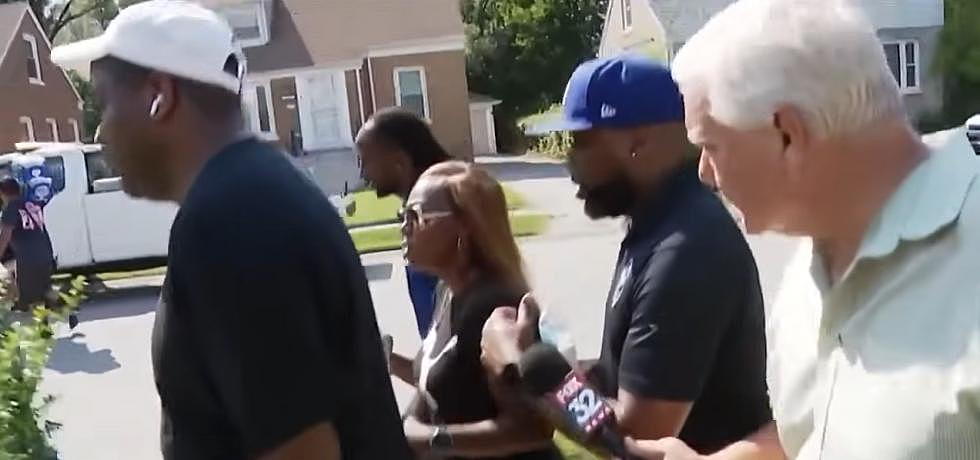 Report Reveals IL Mayor of 20,000 Spends $250K A Year In Security
Fox32 Chicago via YouTube
The part-time mayor of Dolton, Illinois had an investigative report come out about her from local Fox station Fox 32 Chicago, and the amount of money being spent on a security detail by the town's self-proclaimed "Super Mayor."
Tiffany Henyard makes nearly a quarter million dollars a year serving both as the mayor of Dolton and being the Thornton Township Supervisor.
While charismatic, she's highly controversial because it's difficult to turn any direction in the town without seeing posters of her face plastered everywhere. She even commemorated 9/11 with a picture of herself beside a graphic depicting the light beams where the World Trade Center used to stand.
The township is looking to understand why she's shelling out $250,000 a year for her security detail, made of police officers.
"We weren't opposed to her having the security detail. We asked how long and how often?" said Dolton Trustee Brittney Norwood.
Officers placed on Henyard's detail are paid once every two weeks, with 80 hours expected. That number increases to 100 once placed on her detail, some putting in 200 hours of work per pay period.
One officer, Terry Young, was paid for 303 hours worked over a two-week period. That leaves 33 hours in 14 days that he wasn't on the clock.
The result was a $13,000 paycheck.
"How? How does a person put in a two-week pay period 303 hours?" asked Dolton Trustee Tammy Brown. "That's impossible. That's impossible. Does he ever go to sleep?"
Anytime that investigative reporters try to get more information about the security detail from Henyard, she's rushed away by the security detail.
"We've had a few shootings," said Trustee Norwood. "So we need the extra police patrolling the streets instead of patrolling her."
"In the last two fiscal years, we're five million dollars in the hole. And a big part of it is the security detail," said Trustee House.
Dolton trustees have filed a lawsuit against Henyard, alleging she has not justified the need for security and is spending hundreds of thousands of dollars on it without the board's approval.
This also continued on to when she would take Dolton police with her for her security detail when she would travel out of town. Records show her spending thousands of dollars on plane tickets, lodging, and meals for the officers.
Read more at Fox 32