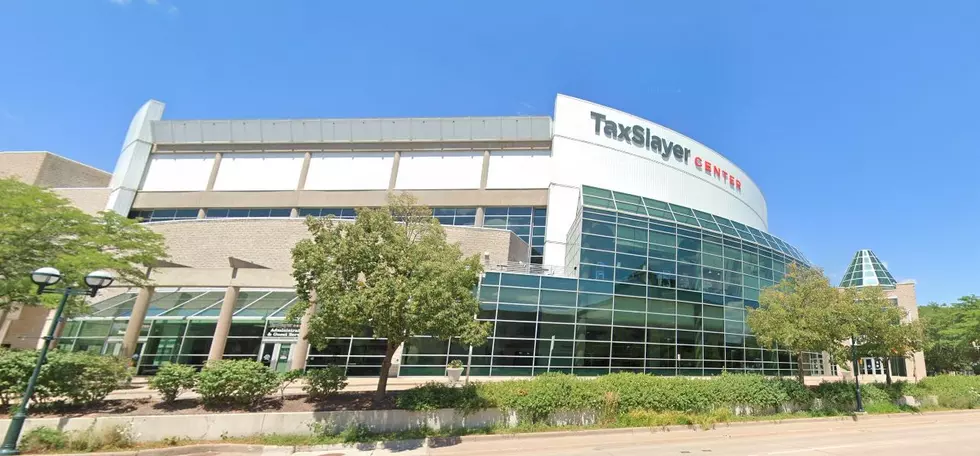 Why The Quad Cities TaxSlayer Center Is Changing Names Again
Google View
Update:  Check out the full story of the new name...which is kind of the old name...here.
You've known it as The MARK, the iWireless Center and for the last 5 years, the TaxSlayer Center.  But the place we go for concerts, hockey, football and more will soon have a new name.
Today The Illinois Quad City Civic Center Authority sent a notice that they "will be announcing a name change for the TaxSlayer Center" on the arena floor at 2:00 p.m. on Thursday, August 18.
Why is it changing names already?
The building became the TaxSlayer Center in October 2017.  And at that time it was announced as a 10-year deal.  Quick math and you can see that we are 5 years early on a name change.  Having seen the inside working of some naming rights deals, I can tell you that almost all of them have an out clause somewhere in the contract.  Seeing that this deal is coming exactly 5 years after TaxSlayer took over the naming rights, one can assume the out on this contract was 5 years.  And on October 1, 2022, we'll have a new name on the venue.
It will always be The MARK to me.
The names of venues change frequently.  If you live in one city long enough, your local venue will change sponsorship names.  Unless you live in Green Bay (Lambeau Field) or Chicago (Soldier Field) your local sports venue will have a name change.  In Milwaukee, they just changed the name of the Brewers stadium from Miller Park (perfect fit) to American Family Field.  Blah.
The name you will gravitate towards will always be the name you know it as when you first move to/are alive in an area.  So while it might always be The Mark, iWireless, or TaxSlayer to you, every sign you see, every commercial you hear and every website you visit will be named something else.
What will the new name of the ___ Center be?
Naming rights are not cheap.  So don't expect your local watering hole to be picking up the naming rights for a place like this.  This is a multi-million dollar deal.  Which really makes it hard for any Quad Cities business to buy the name.  The only one that makes sense is John Deere.  They already own the pavilion in Moline so do they want to own it all?  Or will they think they have enough of the area and that is not needed?
More than likely it will be a national company that either has a decent presence in the Quad Cities or they are trying to build one.  They will give us all the stats tomorrow (August 18 at 2:00 p.m.) but you know there are hundreds of thousands of people in that building yearly.  Plus all the times you hear it on the radio.  See it on TV and on billboards.  Go to the website.  The new naming rights will be somebody that wants their brand in front of the entire Quad Cities.
Not only will it be expensive because of all the exposure they will get, but it will be expensive because most of these deals also work in the "hard costs" to change the logo on everything.  Think about it.  Not just the sign on the building and a name change.  It's every logo in that building.  On their print.  On their website.  Even the employee shirts and name badges will need to change.  It's a massive undertaking that most places (like your favorite radio station) can't afford.
This is kind of your fault.
Ok, not really.  But, clearly, the folks at TaxSlayer did not see enough of a return on their investment to keep the naming rights.  This means over the past 5 years, not enough of us have been using their products.
So another era of the venue in Moline is coming to end.  And a new one is about to start.  But really, didn't the TaxSlayer Center hit its pinnacle when this happened?
100 Interesting Facts About The Quad Cities You May Or May Not Know
The Quad Cities is filled with a very rich history. From inventions to crossing the Mississippi River, to American Presidents and Walt Disney, there are many facts about the Quad Cities that many people do not know. While there are many more stories and facts to share about the Quad Cities, you'll find in these 100 facts that all roads, somehow, lead back to the Quad Cities.
Most "Redneck" Towns In The Midwest
Since the popular Youtube channel run by
Nick Johnson
has made a video about almost every state when it comes to redneck towns we decided to take the number spot from each of those videos and put them in a list of the most redneck towns in the Midwest. In no particular order here are your most redneck towns.