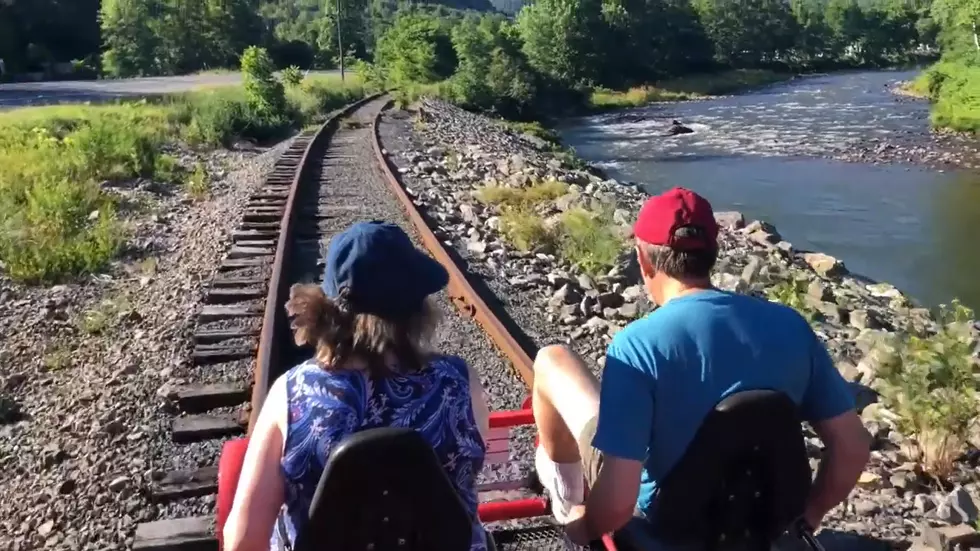 Did You Know this Sweet Pedal Car Trail on Old Railroad Tracks Exists in Iowa
youtube.com/Rail-Explorers-USA
It's such a romantic idea, to travel by train across this great country.  The comfort of a railcar vs an airplane seat seems to be a better way to travel. And the scenery!  You truly get an idea of what America looks like when traveling by train.
To be honest, I'm not super interested in traveling cross country by rail.  But if I had a place to go where I could get some nostalgia and some scenery, you can count me in!
Enter Rail Explorers USA who allow you to travel the old railway system using those old hand cars.
Brief History of Handrails
I only remember hand cars from Looney Toons cartoons.  Usually, Wile E. Coyote is pumping it to run away from the train he didn't realize was on the track (even though he was trying to get that poor Road Runner hurt by pouring free bird feed on the tracks).
I digress.  In the 1800s, rail workers used these hand cars to travel along tracks in order to inspect and repair them. We get to have way more fun!
The Benefits of Using Old Railway Systems
They've found a great way to recycle and repurpose infrastructure that would otherwise go to waste. What a great way to support and preserve the historic railways that have played such an important role in the development of our country.
Finally, the scenery along old railway lines is often breathtaking. From picturesque countryside views to glimpses of historical towns and landmarks, there is always something new and interesting to see.
The Boone, Iowa Division
Rail Explorers have a place in Boone, Iowa where riders can enjoy beautiful views of the Des Moines River Valley.
"This 12.5-mile round trip will take you from open farmland to the Des Moines River. On the way, you'll cross the Bass Creek High Trestle & the Des Moines River Bridge."
The 2022 season is now closed but will be open soon in the spring of 2023.
Is This Available Garner, IA Home Actually Willy Wonka's House? You Decide
Various 70's style remodels make this home in Garner a different one.