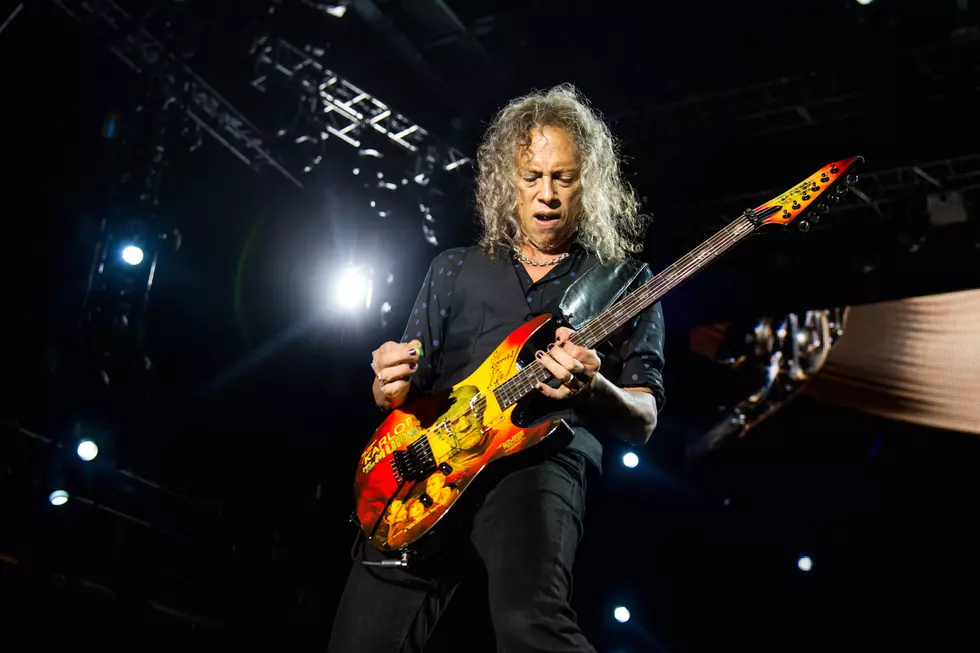 Metallica's Kirk Hammett Names the Song That Inspired Him to Use a Wah Pedal
Amy Harris for Loudwire
If there's one piece of gear Metallica axeman Kirk Hammett is known for, even more so than his monster movie guitars, it's the wah pedal. But where did he first get the inspiration from? Was it his guitar instructor Joe Satriani who used it to great affect throughout his solo career? No. It was Thin Lizzy.
"To me, the wah-wah is a lot like the human voice. It isn't so much about the 'wah-wah' sound, it's being able to manipulate the tone however I feel it in that moment," said Hammett in an interview with Metal Hammer. "It actually creates a better connection to the deeper part of me," he continued.
As for where the inspiration came from, Hammett revealed, "And [Jimi] Hendrix wasn't actually the first person I heard use a wah-wah pedal – that was Brian Robertson from Thin Lizzy!" Recalling that life-changing moment, he went on, "The first time I became aware of it was the song 'Warriors' on Jailbreak. He comes in with this totally wah-ed out two-three notes, and I said to my friend, 'What is that?!' He said, 'That's a wah-wah pedal.' 'Wow, fantastic!' I made a mental note of that…"
The guitarist also recently said he would like to record a solo album and that it would "not look like a metal album" and that it would consist of various different playing styles. He forecasted each member of their band doing something along more independent lines in the near future as well.
For now, though, Hammett and the rest of Metallica have their eyes fixed on their upcoming world tour dates in support of 2016's Hardwired... To Self-Destruct. North American tour stops are scattered between October 16 and March 13 and the thrash legends will follow it up with another European tour leg which starts up in May.
10 Unforgettable Kirk Hammett Moments
Where Does Kirk Hammett Rank Among the Top 66 Hard Rock + Metal Guitarists of All Time?